We Got Starlink RV
An overview of our experience setting the Starlink RV service, our initial impressions, and what's next.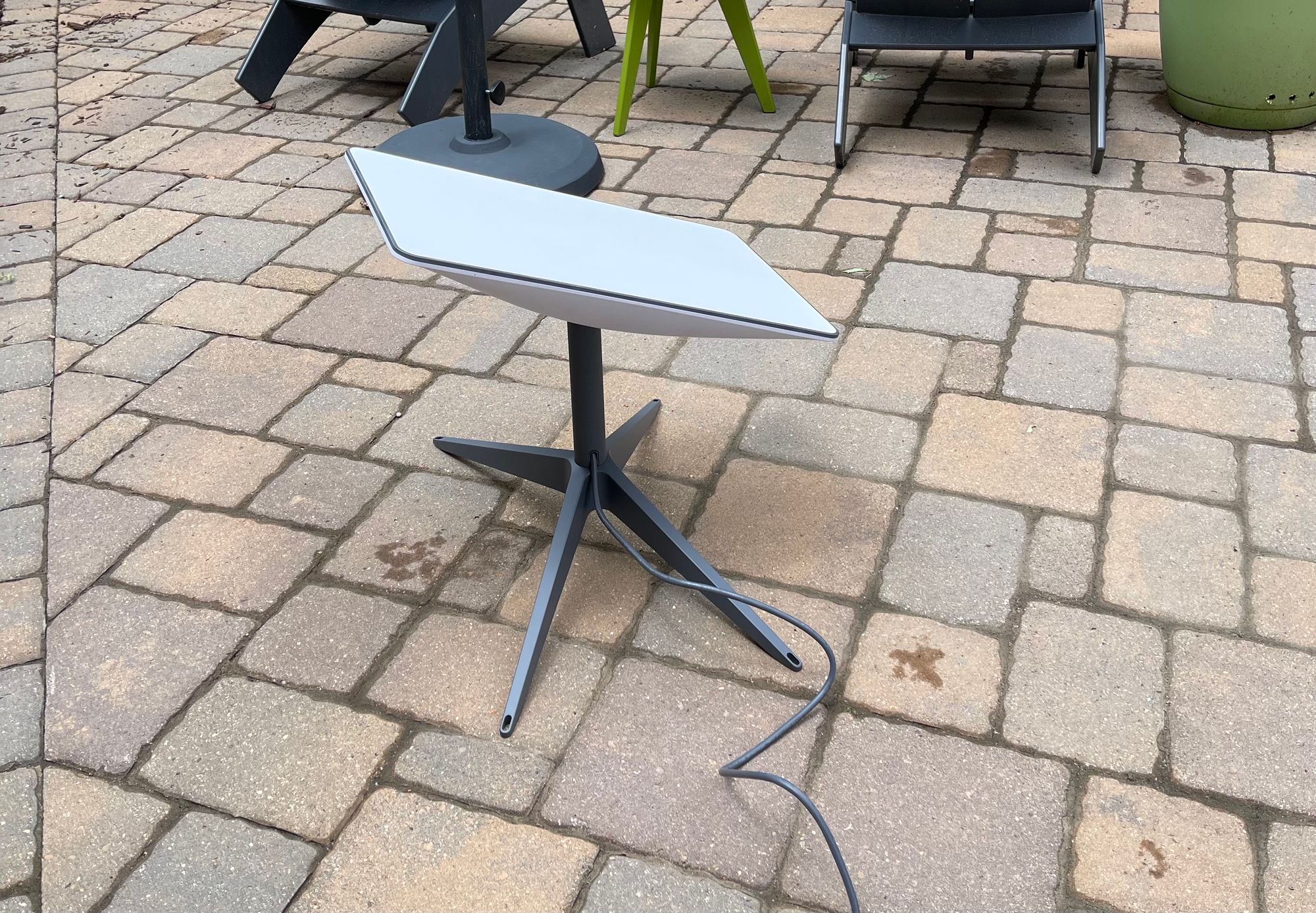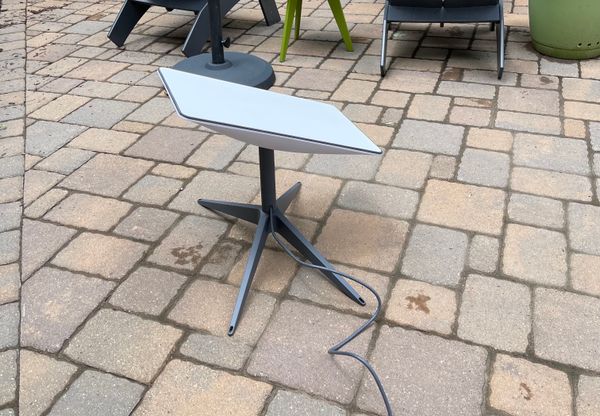 We'll be going on a lot of overland adventures this summer and fall so we decided to try the recently announced Starlink RV service. While Val and I appreciate being off-grid away from the hustle of daily life, we also have work and commitments that sometimes require a high bandwidth internet connection. And while there are always libraries, coffee shops, breweries, and other places with free wifi, we'd thought it'd be a good experiment to try working from camp. Starlink should give us high bandwidth internet in almost any location with a clear view of the sky in the United States and southern Canada. In this article, we'll share an overview of the Starlink RV service, our experience setting it up for the first time, and our initial impressions.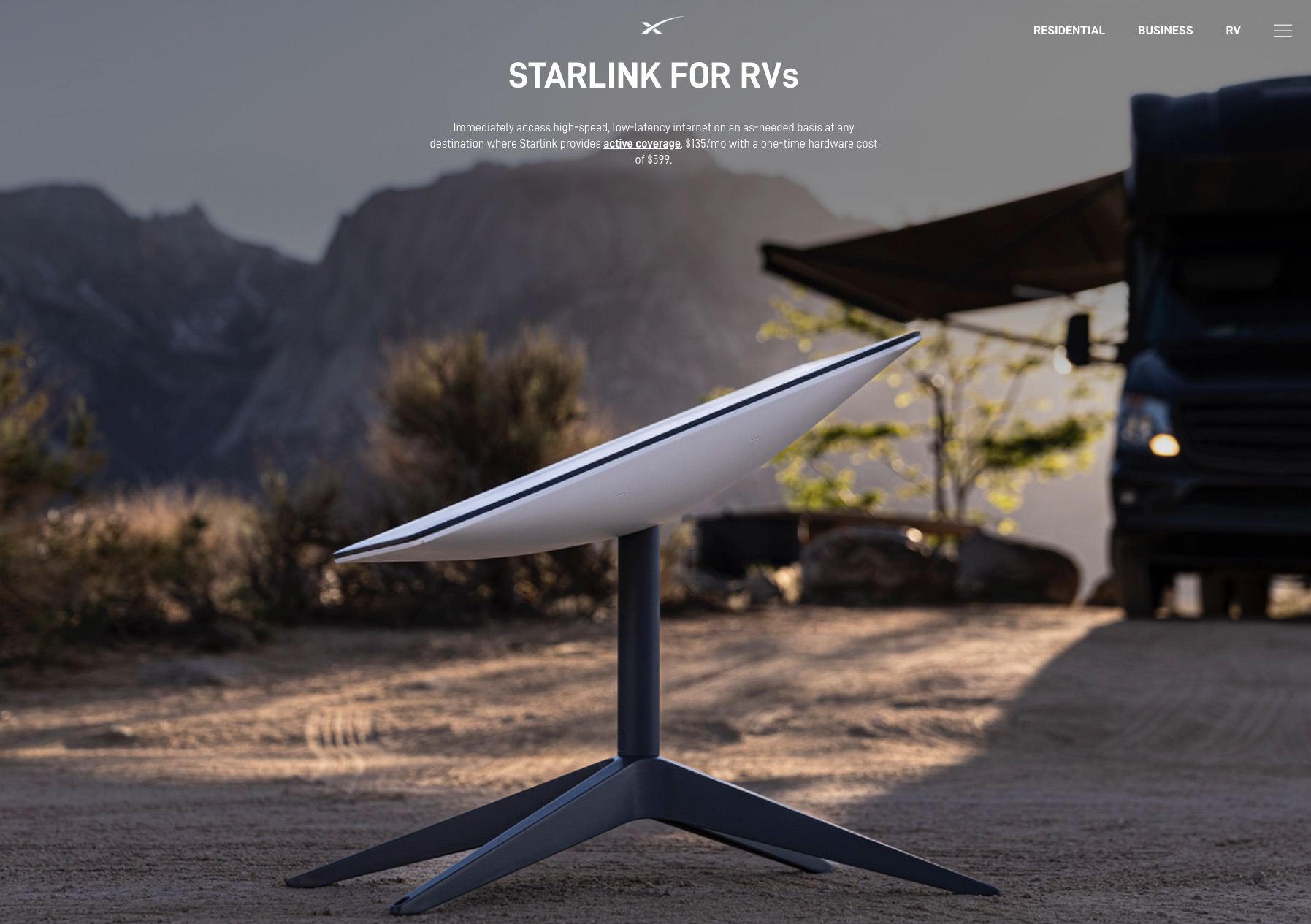 About Starlink
Starlink is a satellite internet service launched in 2019.  As of June 2022, it uses a constellation of thousands of satellites to provide service in 33 countries and is rapidly expanding to nearly full global coverage. Starlink improves on previous satellite internet service by offering higher bandwidth with lower latency which is important for applications such as voice and video calls and meetings. Starlink requires purchasing a satellite and router for $599 and a monthly service fee of $135 which includes the ability to roam from location to location. Starlink is also available at a fixed address such as a house for $110 per month service fee.
Starlink Residential vs Starlink RV
Starlink was originally focused on residential or business service, providing internet service to underserved populations and locations. Some overlanders experimented with using Starlink residential service by changing their service address each time they moved camp. This strategy worked fairly well but had some limitations in areas that were on a waitlist.
In May 2022, Starlink officially announced Starlink RV with a number of RV specific benefits including:
Pause and unpause service on a monthly basis
No waitlist at least for now
Use at home too with potential service interruption or lower bandwidth during peak hours or based on demand
As compared to Starlink Residential, the biggest differences are the extra $25 monthly costs and potential service degregdation or interruptions during peak demand.
So if you're looking for always available high bandwidth internet at a fixed location, Starlink Residential may be for you. But if you're overlanding in the middle of nowhere hoping to get a few bars of service on your iPhone to check the weather or send a text message, Starlink RV could potentially increase the liklihood and speed of an inernet connection by 10x or 100x.
Coverage
Starlink provides service in 33 countries and is rapidly expanding to nearly full global coverage. You can check availability in your location at https://www.starlink.com/map. If Starlink is available at your location, you can immediately order a Starlink satellite, starting service immediately. If Starlink is waitlisted or coming soon to your location, you can sign up to be notified when service is available. If your location is on a waitlist, that means the satellites in that location are already at capacity but you can potentially use Starlink with reduced bandwidth using Starlink RV.
Per the Starlink RV website, "Users can expect high speed, low latency internet in areas marked "Available", and notably slower speeds during hours of peak usage in areas marked as "Waitlist" or during events with many collocated users."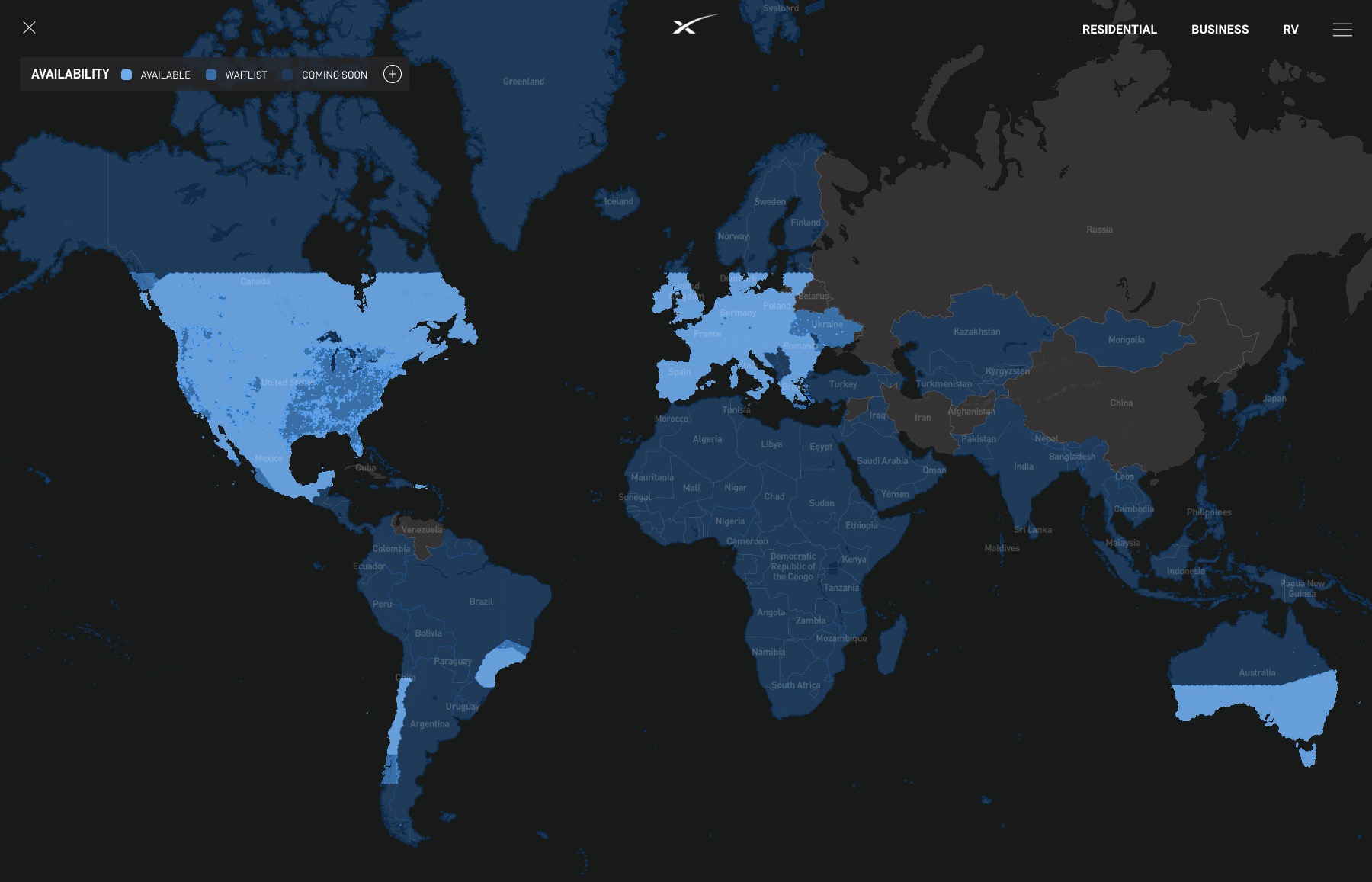 As someone who's spent a lot of time traveling the Western United States, I can tell you that it's common to not have any cellular data connection or an extremely slow and spotty connection. Starlink RV is a great option to have more coverage in more locations. It enables the possibility of camping, playing, and working from the same location in the middle of nowhere without the need to drive into town to find better cellular or wifi connection.
Initial Setup
The Starlink kit includes:
Dish
Dish stand
Router
Dish to router cable
Router power cable
Starlink App (download)
It took about 10 minutes for the initial setup of unboxing the equipment, setting up the dish and router, and getting an initial internet connection. Subsequent redeployment was much faster.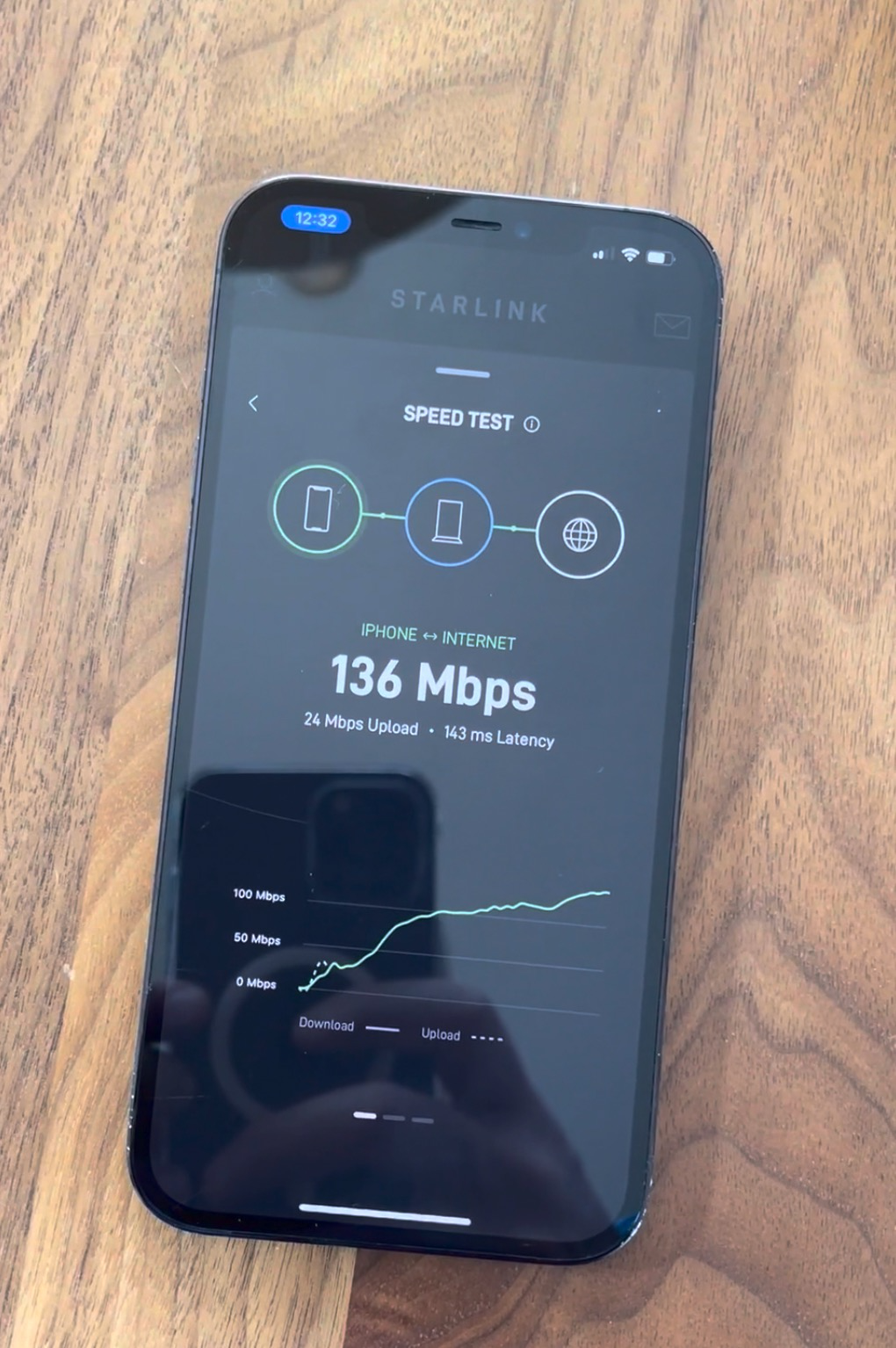 During our quick initial test at home, we placed the dish on our back patio which is blocked on three out of four sides by our house and trees. After taking a few minutes to start up and position itself, we got 140 to 136 Mbps download and 30 to 7 Mbps upload with 143 ms latency. I'd consider that pretty good for my cable internet connection let alone a satellite internet connection. Of course, the latency is a bit more than a traditional hardwired connection but it's still pretty good considering. During a quick FaceTime test, the video was occasionally choppy but the audio was clear.
We initially repacked the equipment into the Starlink box but then decided to try a travel backpack. The backpack fit the dish, router, and cables well but didn't quite fit the stand. The dish's mounting pole also sticks out awkwardly and seems likely to be damaged over time in such a soft storage case. We'll be experimenting with other storage options in the near future. Subscribe for future updates to recieve future posts about our Starlink storage experiments and tips for using it while overlanding.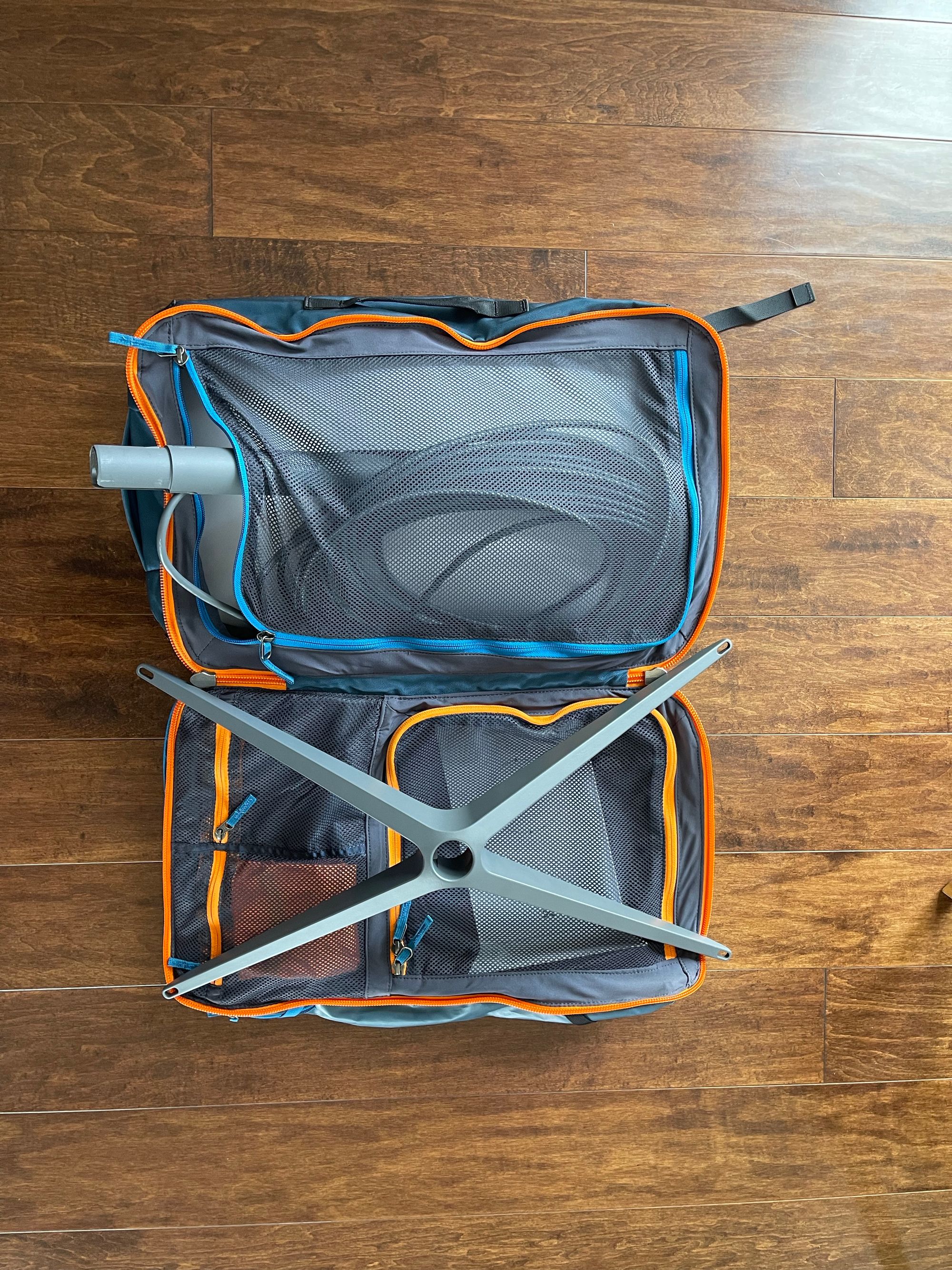 Initial Impressions
What we love:
High bandwidth low latency internet service in almost any location, even in the middle of nowhere. Great for overlanding and dispersed camping.
The dish automatically finds the best position using its built-in motor to reposition the dish as needed for an optimal connection.
The dish and router have a fairly small form factor and weight.
The dish and router are waterproof / water-resistant.
The dish comes with a long cable (75ft) which enables positioning the dish in a location with a clear view of the sky.
Additional dish mounts are available although they are mostly designed for permanent mounting at a fixed location. While some of these mounts could be used on an RV ladder, roof, etc that doesn't provide the flexibility to locate the satellite dish in an area with a clear view of the sky if the RV is in the trees.
The dish includes a heater to melt snow and ice. Maybe we can also warm up our morning muffins? Kidding of course.
What could be better:
The initial setup was a bit confusing. The dish seemed to take about 10 minutes to find a connection, position itself, and become functional while the app didn't provide any guidance as to what was happening other than "offline". It was not ideal as an initial experience when you don't know what is supposed to happen. But since then, it's been quick and easy to redeploy.
The dish and router seem fragile, especially the dish's mounting pole which sticks out of it at an angle. Overland travel can be hard on gear, especially while driving offroad. The router also has some sharp angles towards its base which could also become damaged during travel. We'll be experimenting with different storage solutions to ensure our dish and router remain in good condition.
The supplied dish stand is a bit awkward to store and transport. While it's stable, it's also a large piece of metal which is awkward to store. Ideally, the legs would detach or fold for packing.
The router and dish require 110v AC power. However, most overlanding electrical systems are 12v DC. Therefore, using Starlink RV requires being connected to shore power or an inverter. The dish and router likley run on DC power, so it's a bit in efficient to convert DC to AC to DC again. Note: Starlink recently asked about this in a Starlink RV customer survey so we assume they might be looking into other options.
The long 75-foot cable is ideal for being able to place the dish in a location with a clear view of the sky. However, if that location is near or on top of your rig then you could have a lot of excess cable. It'd be nice to have the option of also carrying a shorter cable or being able to attach a shorter cable with a longer cable as needed.
The dish and router are separate. Ideally, it'd be awesome if the dish and router were a single unit for less complexity. That said, having them seperate enables positioning the dish in an area with a clear view of the sky while keeping the router closer to the area where you want an internet connection.  
To summarize, Starlink RV doesn't seem to have been designed for RVs and traveling as its primary use case. This isn't an overwhelming problem but does require some thoughtfulness about how to store and transport the Starlink dish, router, stand, cables, and inverter.
What's Next
We're excited to test Starlink RV in the field during our overlanding adventures.
We're curious to see how it does in a variety of locations, especially with different types of obstructions such as trees, mountains, rocks, etc.
We're curious to see how it does in high winds and weather.
We're curious to try different mounting, storage, and transportation options to find what works best with our rig and workflow.
We're curious to learn how it augments our adventures including where and when we work, how and when we use cellular data, etc.
We've already been experimenting with different storage and stand options. Subscribe for future updates to receive future Starlink RV posts about our experiments and tips for using it while overlanding.
See you out there,
-Adam
Check out all of our Starlink posts and sign up to be notified about new posts.