Transitioning
A trip report from the start of our summer 2022 trip.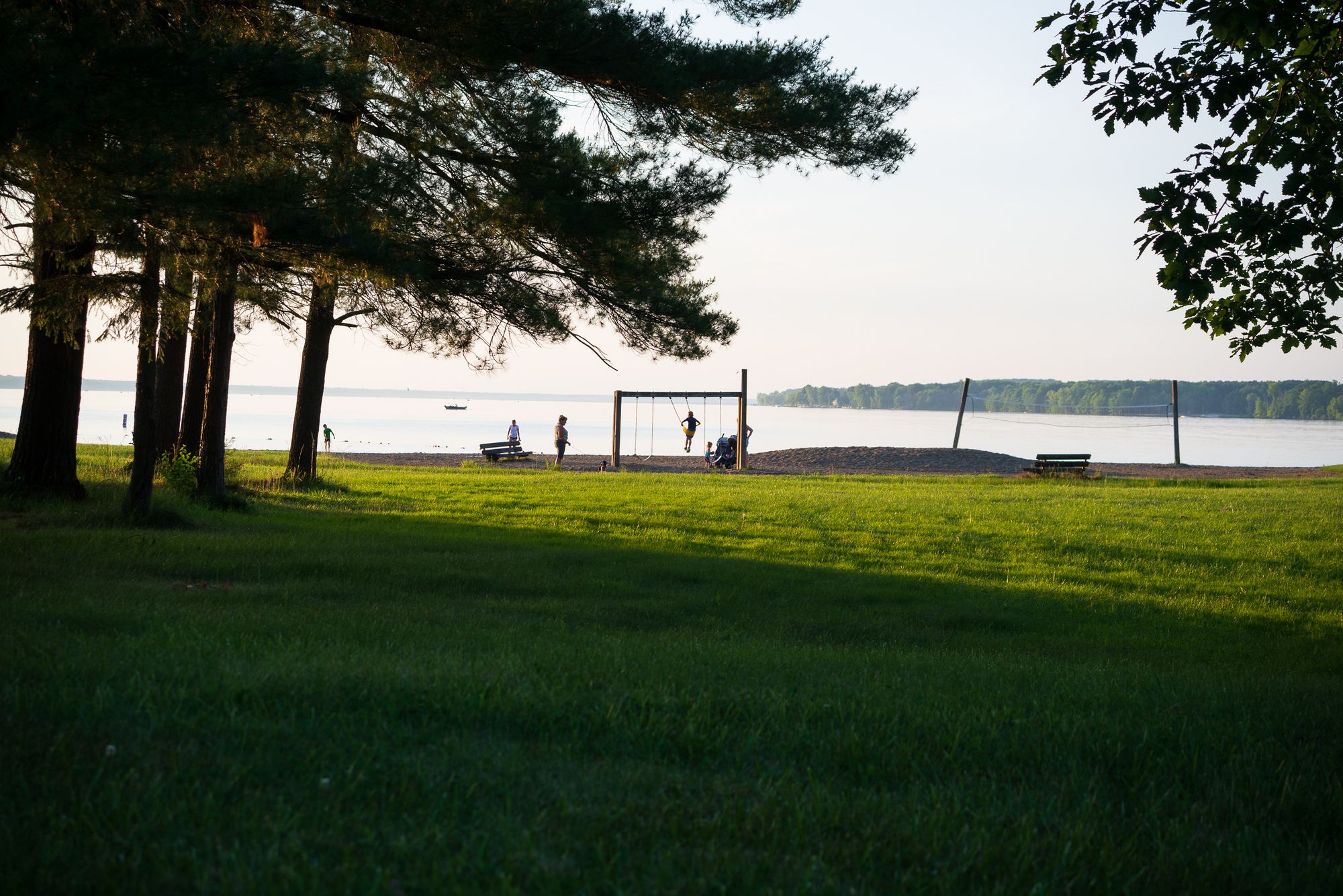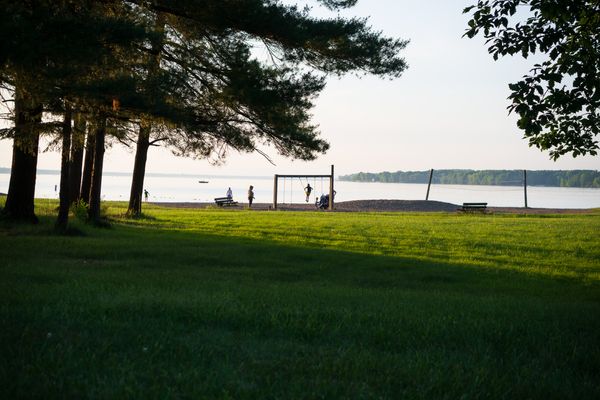 Mile 0
We finish preparing to depart. Morning glory muffins are baked, coleslaw is dressed, and shrimp are simmered in lemon and Old Bay. We pack clothes, food, and gear and go through final checklists. And it's time to leave. We take a quick picture, reset the odometer, and we're off on the road again.

I feel excited and a bit anxious about starting this trip. We'll be traveling for three months. After working for many years, it feels like a more than overdue break. But it's still a bit scary. It's an enjoyable feeling that I associate with trying something new or making a big change in life.
Mile 67
An hour into the drive to Lake Mac I'm already feeling better. I'm feeling lighter and excited about what's ahead. I'm ready. I need this. I'm not sure exactly what will happen but I'm trusting that it will unfold over time and be a grand adventure.
Mile 235
We sit around the picnic table at camp eating dinner. We're starting this trip with the Gorbskys at Lake Mac. We eat pulled pork sandwiches which Marisa and I had piled with coleslaw and potato chips. It's a tasty combination, the smoky-sweet pork, cool creamy coleslaw, and crunch potato chips. We chat and enjoy each other's company.
Later, we sit around the campfire as the sun sets and the stars emerge in the cooling evening air. We talk about this and that. We play satellite, seeing who can spot the most satellites traversing the night sky. It's a great day for camping with friends. And a great start to our adventure.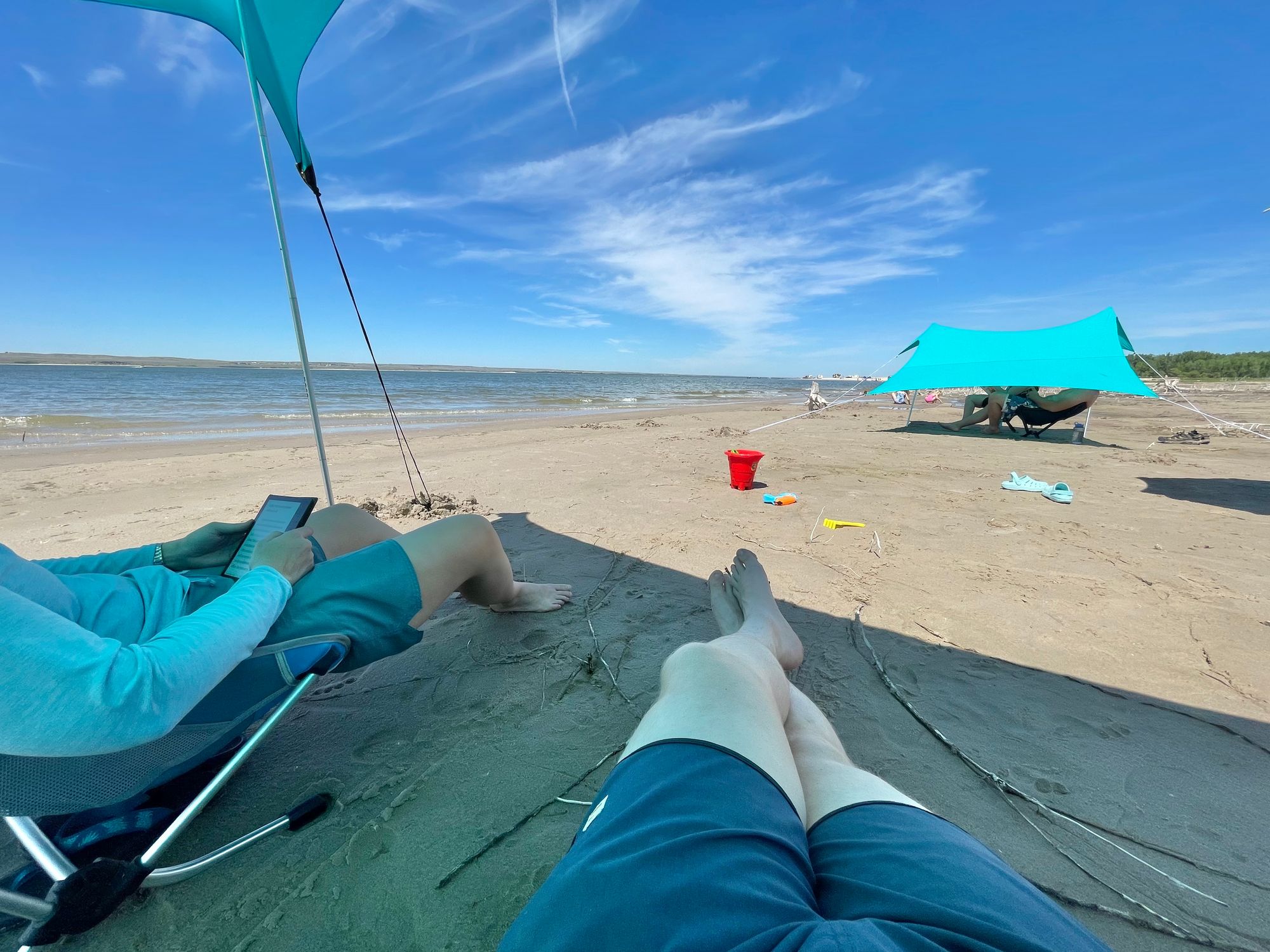 Mile 341
We sip our coffee while driving down the highway. We're on I-80. The cruise control is set to 78 mph. We glide along with truckers, RVs, and cars. We stop for gas. 24 gallons at $4.95 a gallon. We eat morning glory muffins and finish our coffee.
Mile 563
We stop for lunch at a rest stop. Turkey sandwiches, chips, and a pickle from our refrigerator and tiny kitchen. We drive a while longer listening to classic rock and chatting about this and that.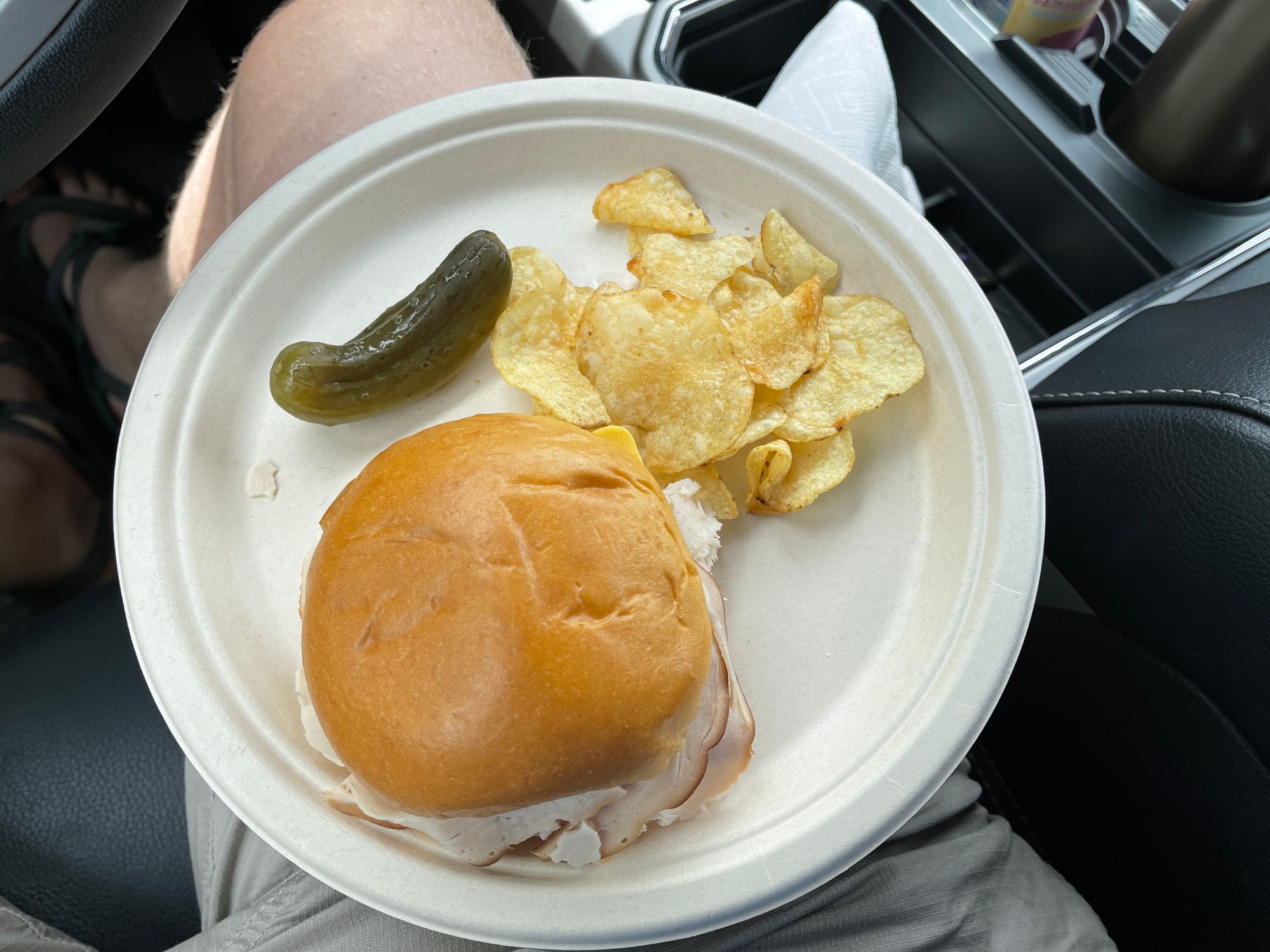 Mile 602
We stop for gas again. Val cleans the bugs off the windows as I pump the gas. The middle of America has a lot of bugs. 22 gallons at $5.05 a gallon.
Mile 729
The scenery turns greener and lusher. There's green grass and crops blowing in the wind. There are farms as far as we can see.
Mile 961
We reach the Mississippi River. We have dinner in downtown Davenport, a treat after a long day of driving. It's hot, in the 90s F, and very humid. We camp along the banks of the Mississippi. We read as we try to cool off with cold beverages and whirling fans. As the sun sets into yellows, organs, and purples, we see lightning bugs. "I haven't seen lightning bugs in a long time," Val says. Lightning bugs don't live in Colorado. We fall asleep to the sounds of chirping insects, the gentle flow of the Mississippi River, and the twinkle of lightning bugs.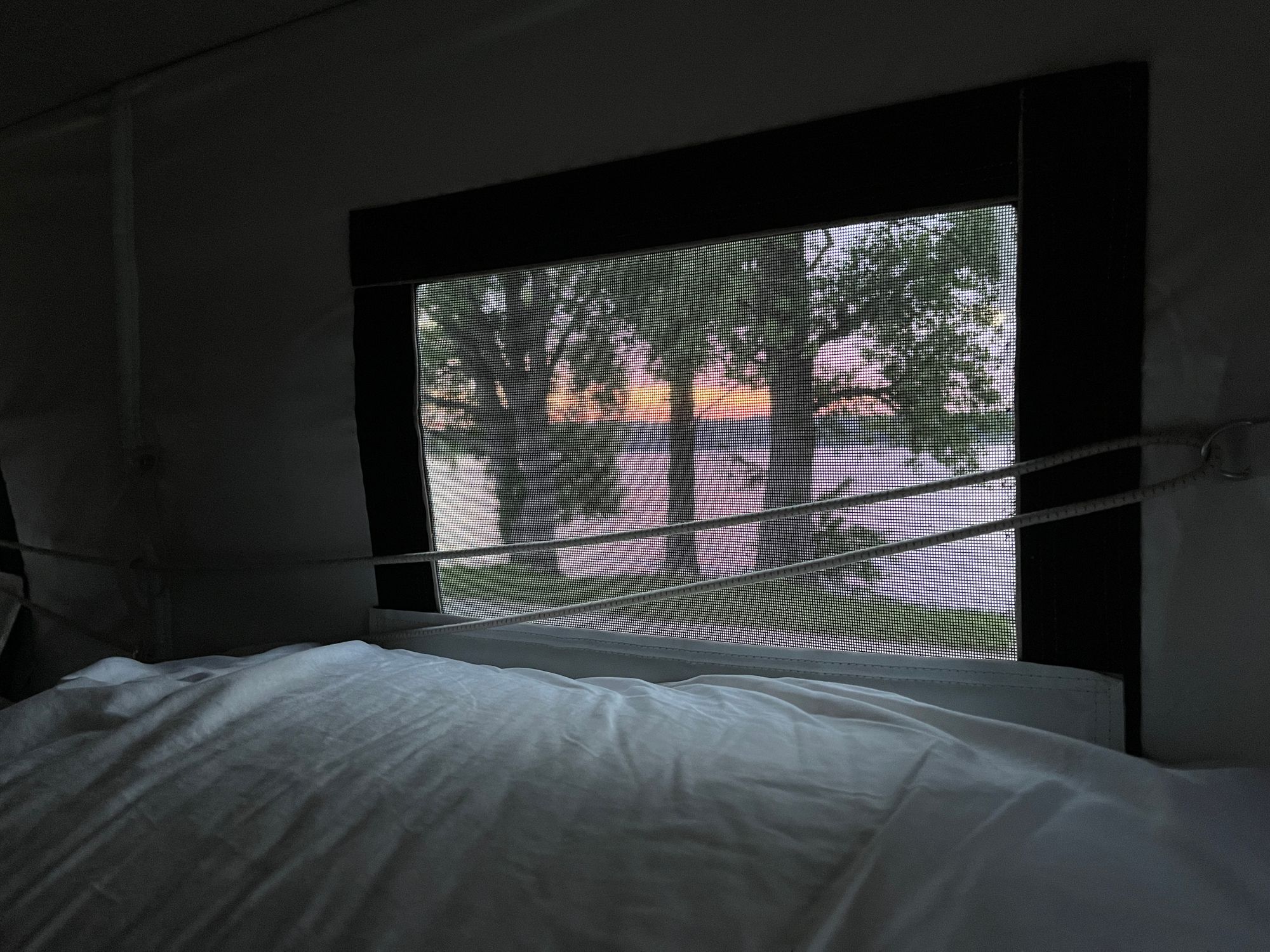 Mile 1,271
Coffee and morning glory muffins again. Gas again. Turkey sandwiches again. More farms and green. What day is it? What time zone are we in? We start to live more in the present moment. Driving, eating, talking, listening, observing. The miles roll by and we settle into our trip. The expectations of the past and future fade into just now. We're transitioning into the trip. Transitioning into being more present and more alive, ebbing with the flow of where the trip takes us.
Mile 1,421
We arrive at Pymatuning State Park where Val used to spend summers cabin camping with her family and friends. We eat at a local pub. I have a cold Yuengling, fried pickles, wings, and a salad.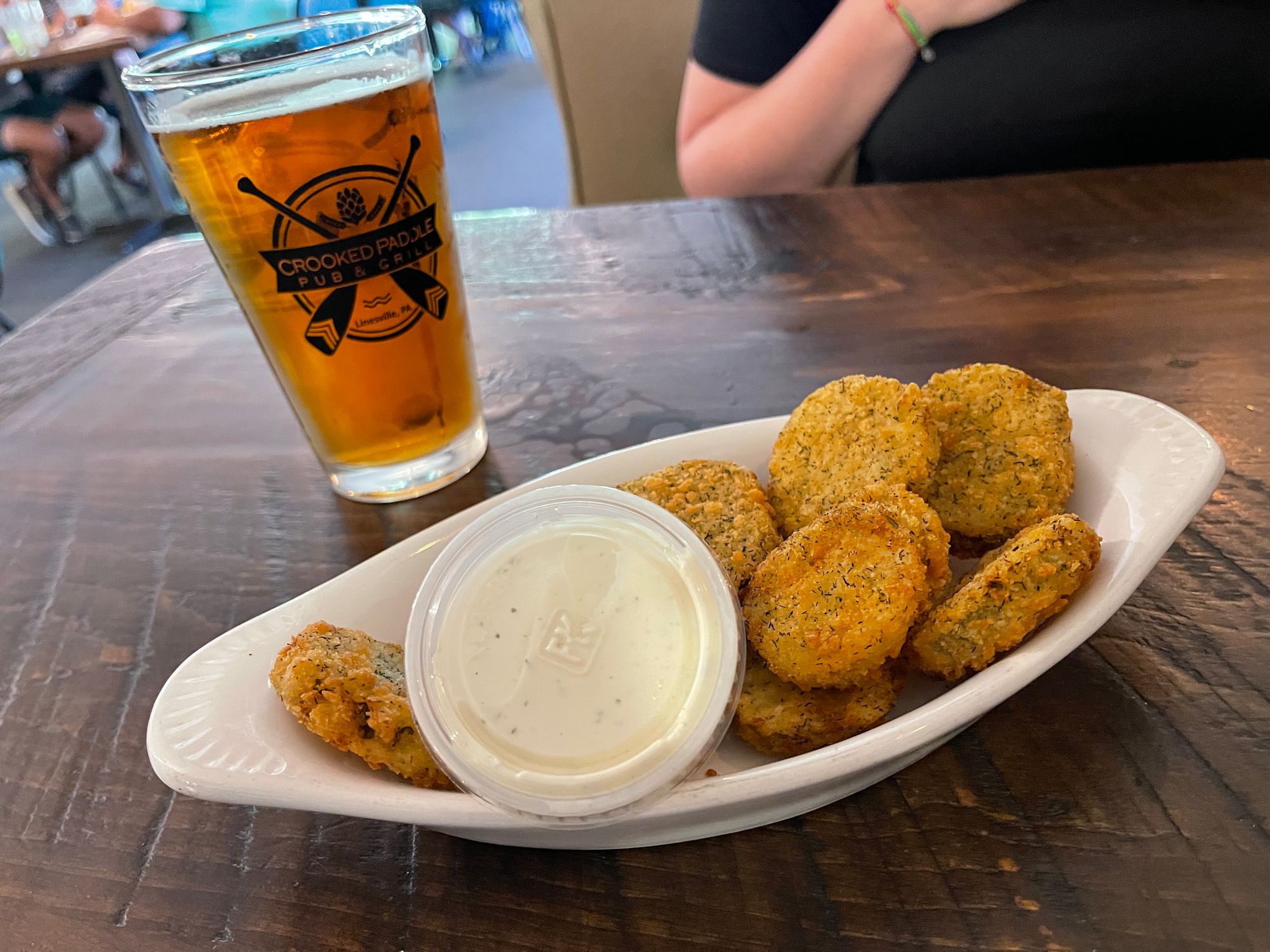 Later we sit by Pymatuning Lske as the water calms and the sun melts into pinks and purples.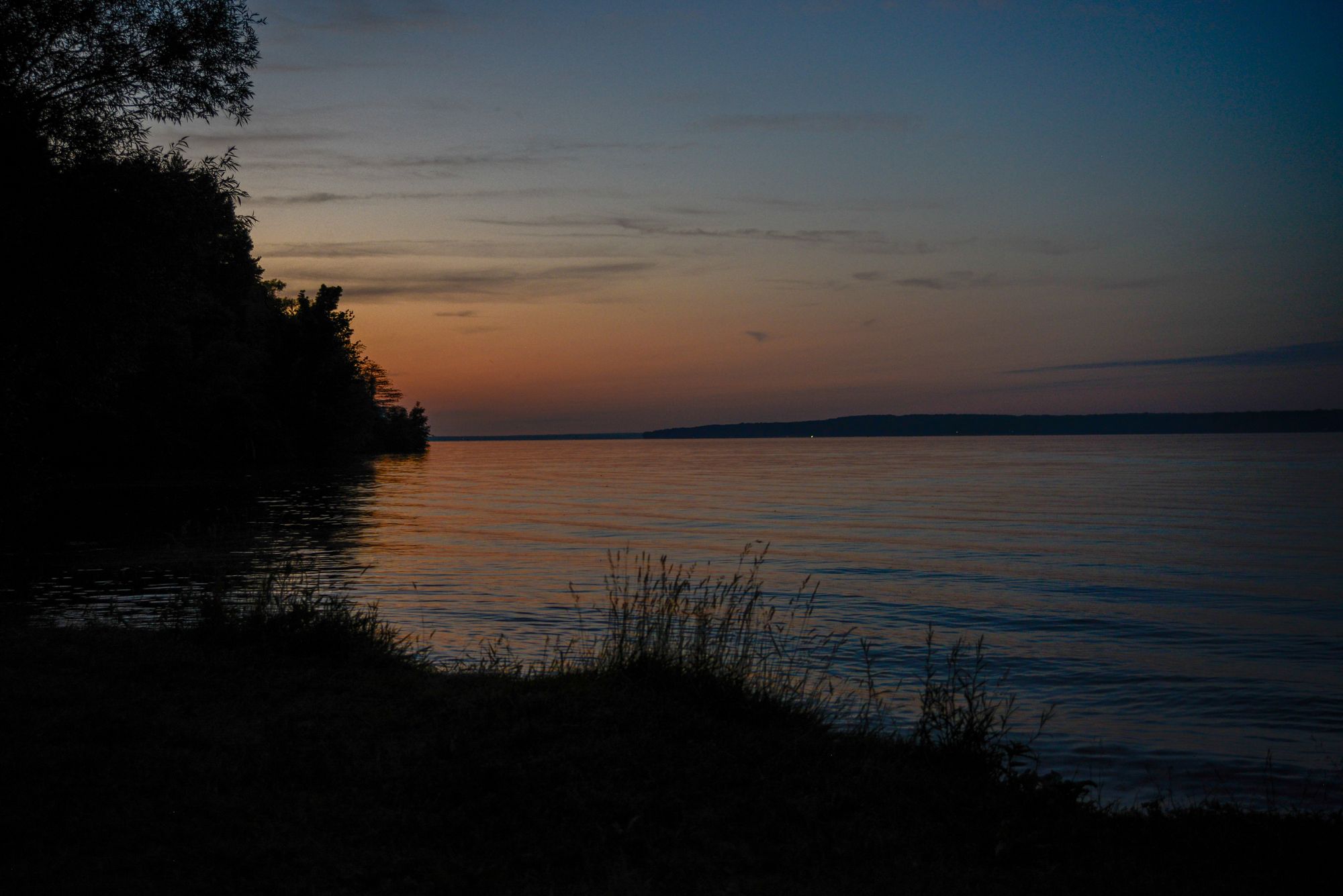 We chat with our camp neighbors the next morning. Everyone is friendly and curious about our rig. We meet a local heading west on a motorbike. We meet some fellow SUPers who give us advice on where to paddle. We SUP around the edge of the lake and then float for a while as we soak up the sun laying on the decks of our boards. We paddle back, shower, and pack up camp while sweating. It's goong to be a hot day today.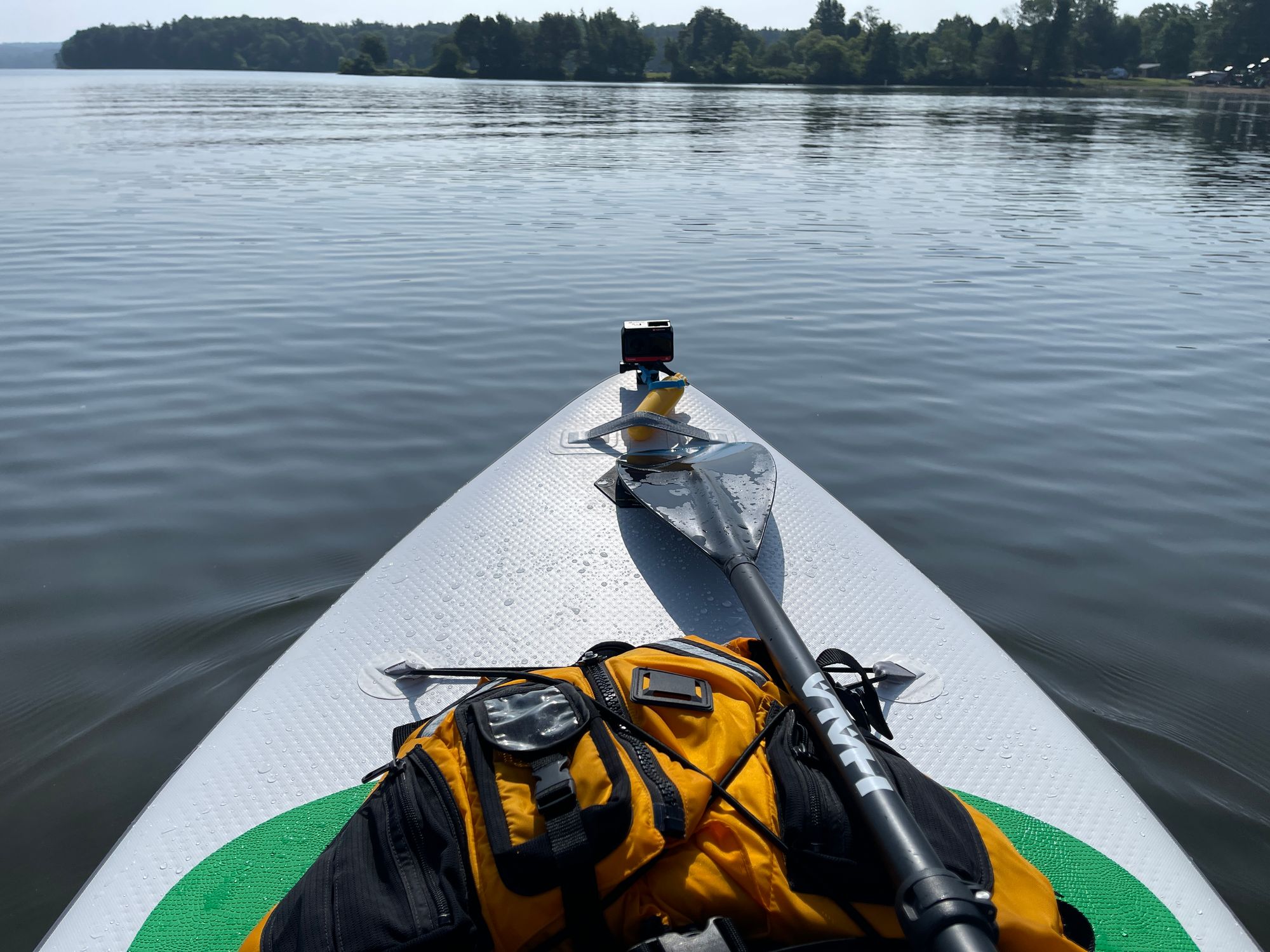 We stop for gas before heading on our way. A man at the next pump asks if we're full timers and YouTubers. "No, not yet anyway. Just this summer for now." I say. We chat for a bit about trucks, campers, and travel until the tank is full. I appreciate the welcomeness of everyone we meet.
Mile 1,474
We stop at Hank's for soft-serve ice cream. We both get chocolate. "Do you have sprinkles?" I ask. "Only on the side" replies the girl taking our order. It's cold and delicious but melts fast. We sit on a bench in the shade of the building, occasionally dipping our cones in the bowl of rainbow sprinkles to renew our toppings. I try to wipe up my puddle of melted soft serve and sprinkles. Leave it better than you found it doesn't just apply to campsites. A delicious lunch.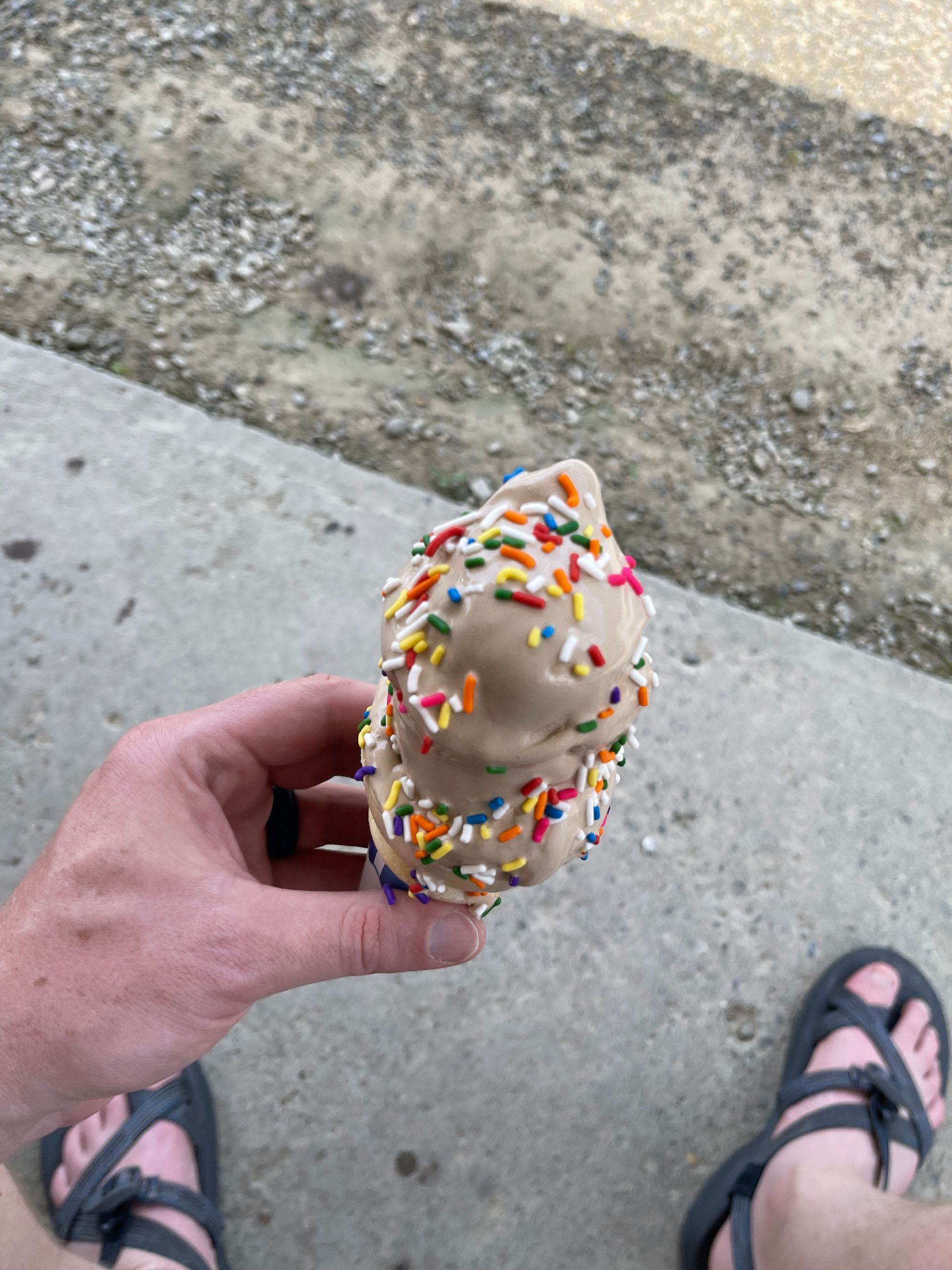 Mile 1,527
We roll up and down over steep rolling hills in our rig. We're somewhere in northwestern Pennsylvania surrounded by farms and a surprising amount of ice cream stands on a one-and-a-half-lane road with no lines painted on it. "They don't make roads like this anymore" I say to Val. The hills are really small rollercoasters up, down, up, down. Probably eight to ten percent grades in some sections. A more modern road would likely traverse a valley floor. This road cuts straight across the valleys. It's fun to drive.
Mile 1,727
We arrive in Ithaca and find a campsite. It's in the woods under shady trees. We're looking forward to a cooler night of camping. We head off to dinner at Gola Osteria which I ate at a few years ago when visiting Ithaca with my mom. Sometimes it's nice to have something familiar with so much unknown. Like a little bit of home. We enjoy cocktails and Crostone Alla Romana (Grilled Bread, Mozzarella, Prosciutto, Anchovy & Sage Butter) followed by pasta and wine. I have Spaghetti Cacio e Pepe (Cheese and Pepper) which is so simple but delicious.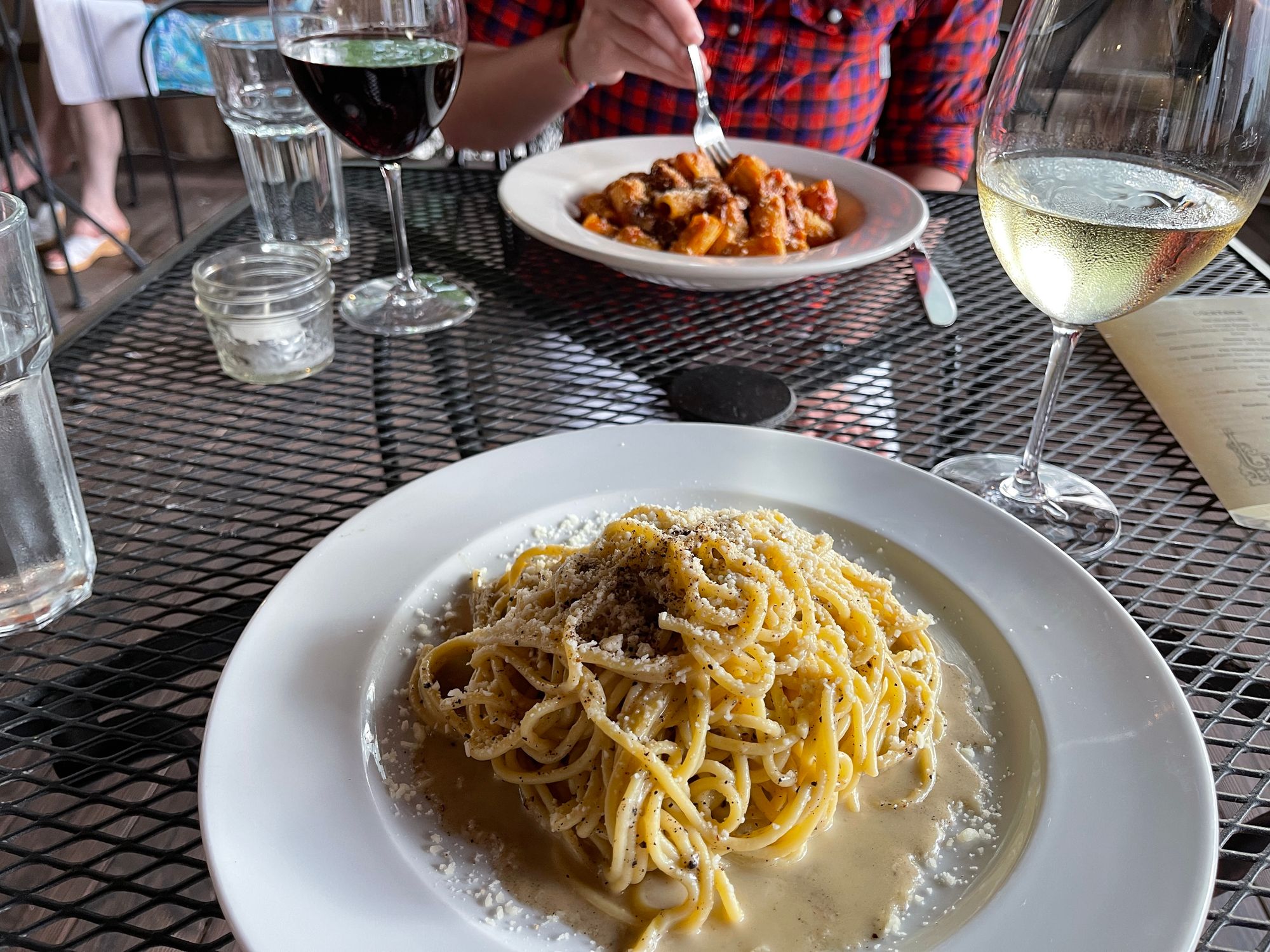 I finally feel like I've transitioned. I'm ready for this trip.
See you out there,
-Adam