The Land of Bunkies
Learning about bunkies and other small differences as we start exploring Canada.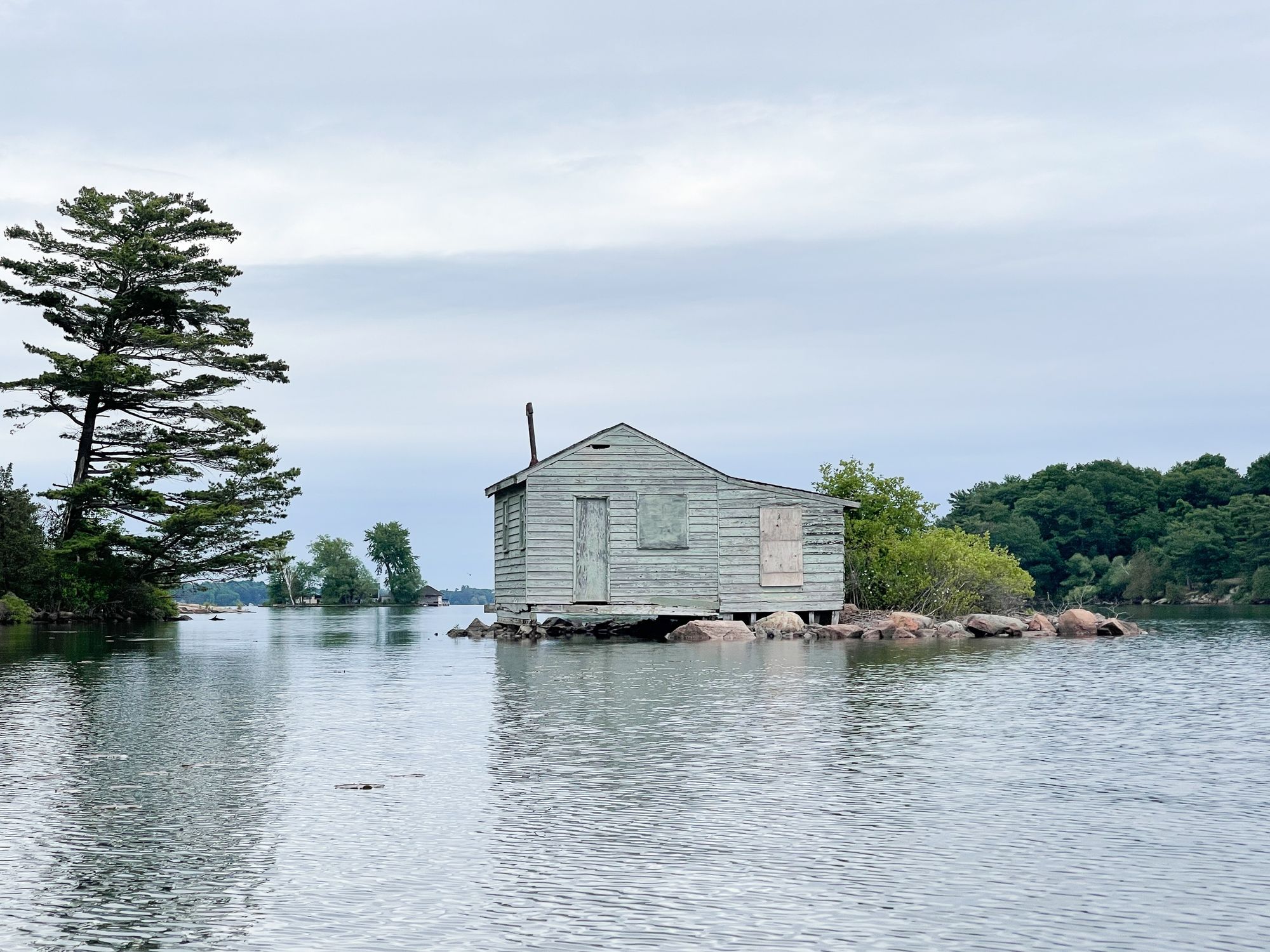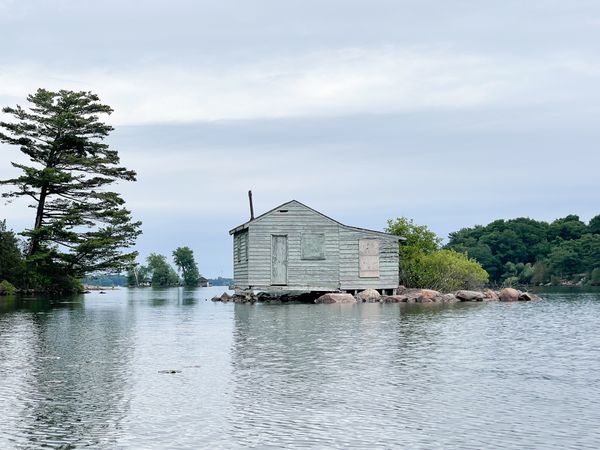 "That's one of my favorite bunkies", Cathy says pointing to a small cabin along the edge of a small island. We're kayaking in the Admiralty Islands in the St. Lawrence River along with Cathy our guide from 1000 Islands Kayaking. Cathy explains a bunkie is a small structure for sleeping and little else. I would probably call a bunkie a cottage or a cabin. As we paddle among islands and bunkies of all shapes and sizes, I begin to notice this and other small differences from my normal expectations.
In some ways, Canada doesn't seem that different from the United States. But the more we travel in Canada, the more we start to notice subtle differences. It starts as we cross the border. It's the 'ooo' sound in the way people speak. It's the Tim Hortons instead of Starbucks. It's slower speed limits and seemingly a slower pace of life. Or maybe it's just because we're in the islands and on island time.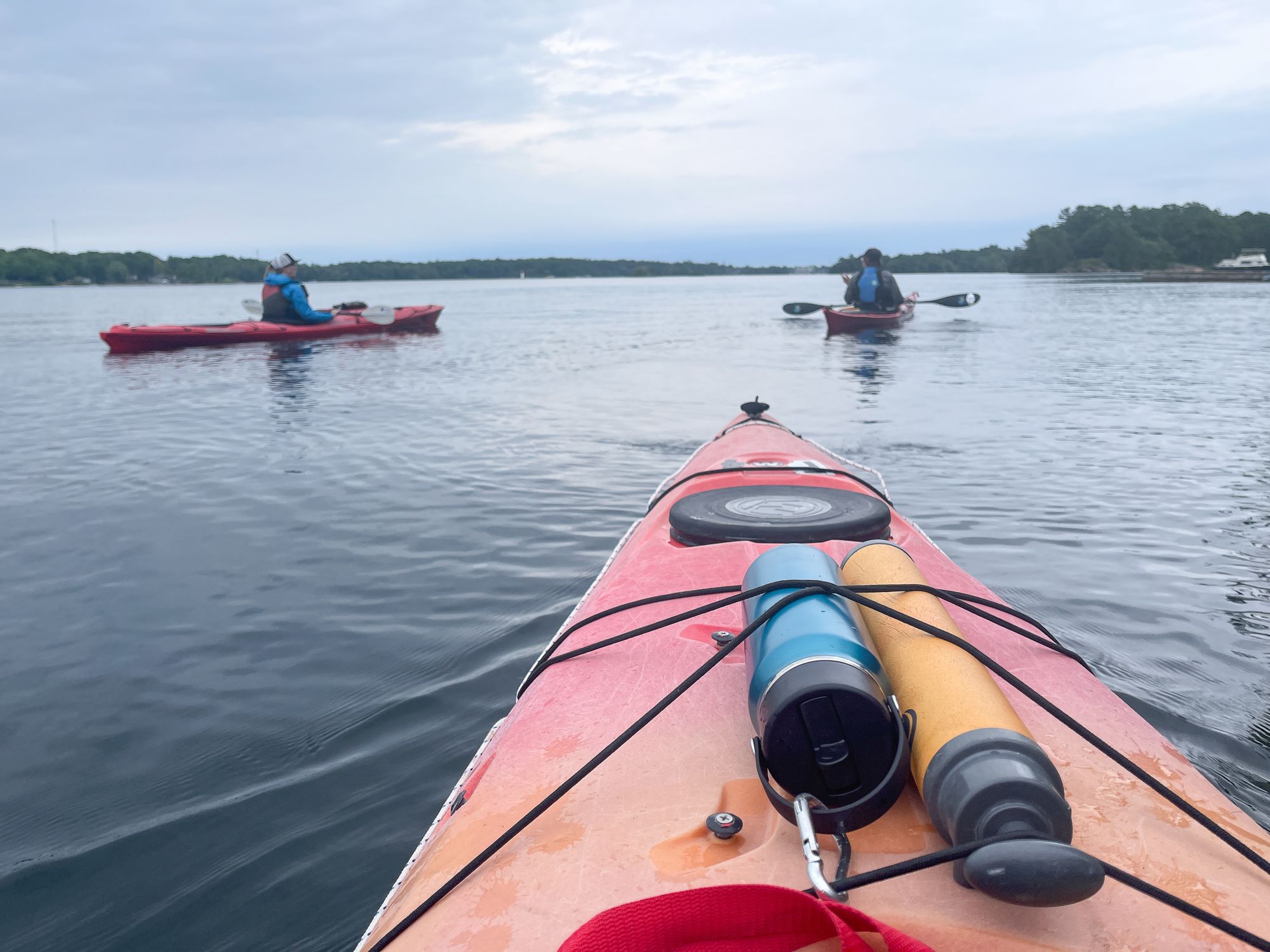 We paddle through some islands with barely enough room for a single bunkie and some with multiple multi-level houses with elaborate boat houses and docks. Most of the houses are quiet this Tuesday towards the end of June. Perhaps it's a bit too early in the season or inhabitants only show up on the weekends. Cathy says hi to the few residents we see. One man is putting fencing around a tree on his small island. He says it's to try to protect the tree from beavers.
We stop for lunch on one of the islands, a member of Thousand Islands National Park, enjoying a picnic shelter while munching on sandwiches, chips, and an apple. We use a lovely outhouse and pass campsites, picnic tables, docks, and trash cans complete with recycling on the way back to our kayaks. I struggle to find recycling containers at many busier National Parks in the United States. The facilities are well maintained and welcoming. There's even a self-service firewood locker on the island for campers.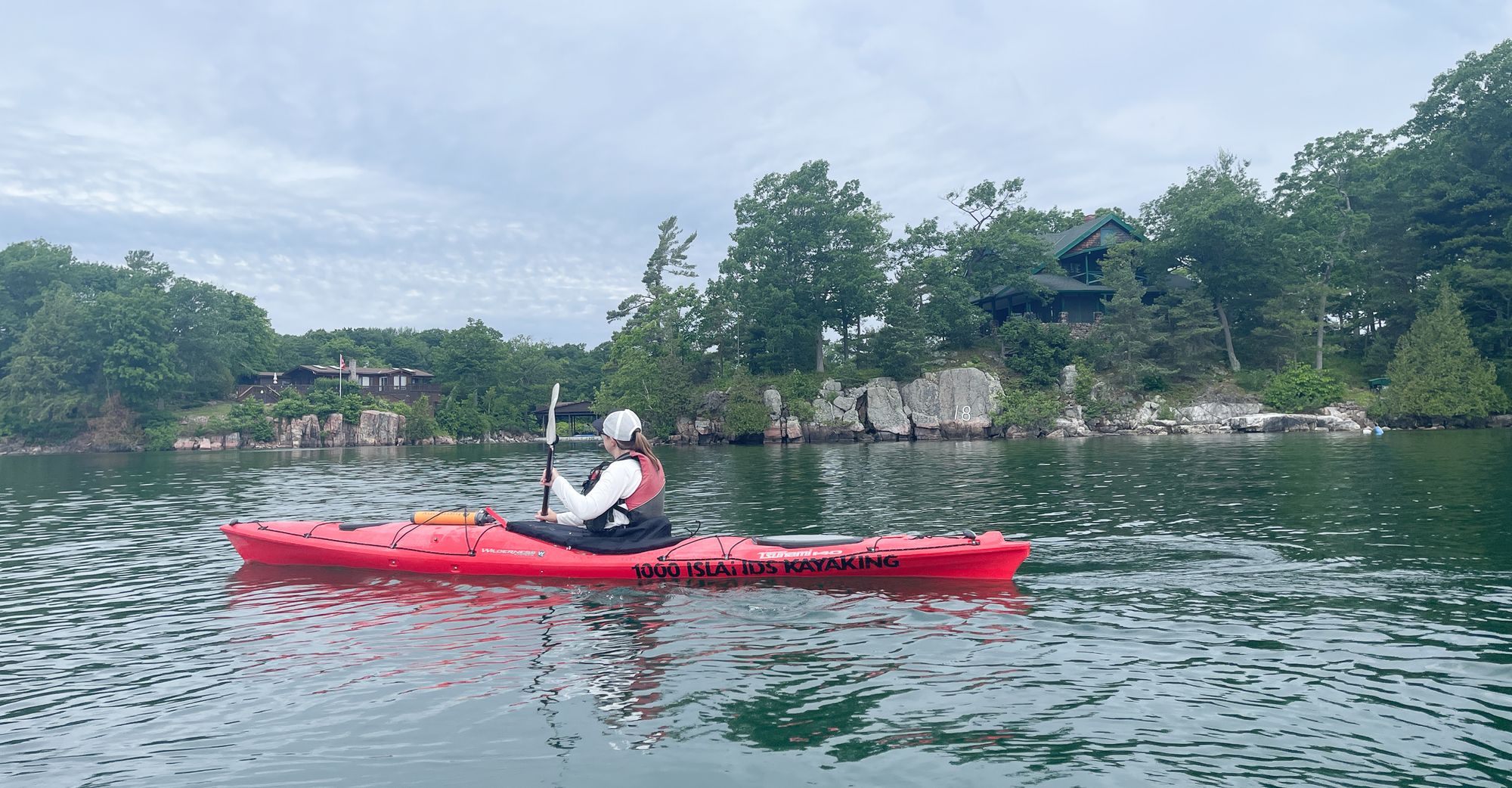 After we return to the mainland, we drive up the road for beers at Gan Brewing. Gan is short for Gananoque but I get the sense that many Canadians have abbreviated sayings for many wordy places. I learn to call it Gan after trying to pronounce Gananoque (guh·na·nuh·kay) to the border agent who told me he never heard of such a place. He then smiled slyly and told me most people call it Gan. Nearby the brewery, I finally parallel park after a few attempts. It can be challenging in a 24-foot-long truck. As we're paying the parking meter, an older couple passes us. The man says "you shoulda let her do it if you wanted it done right" with a playful smile. At the brewery, we order beers and are offered complimentary popcorn. We toast victory to our 16.5 km kayaking adventure. That's a big paddle for us. We talk and people watch, seeing many friendly encounters between people passing on the street. "Go get yourself a beer," a local woman says to a group looking at the brewery but not sure they're ready to commit.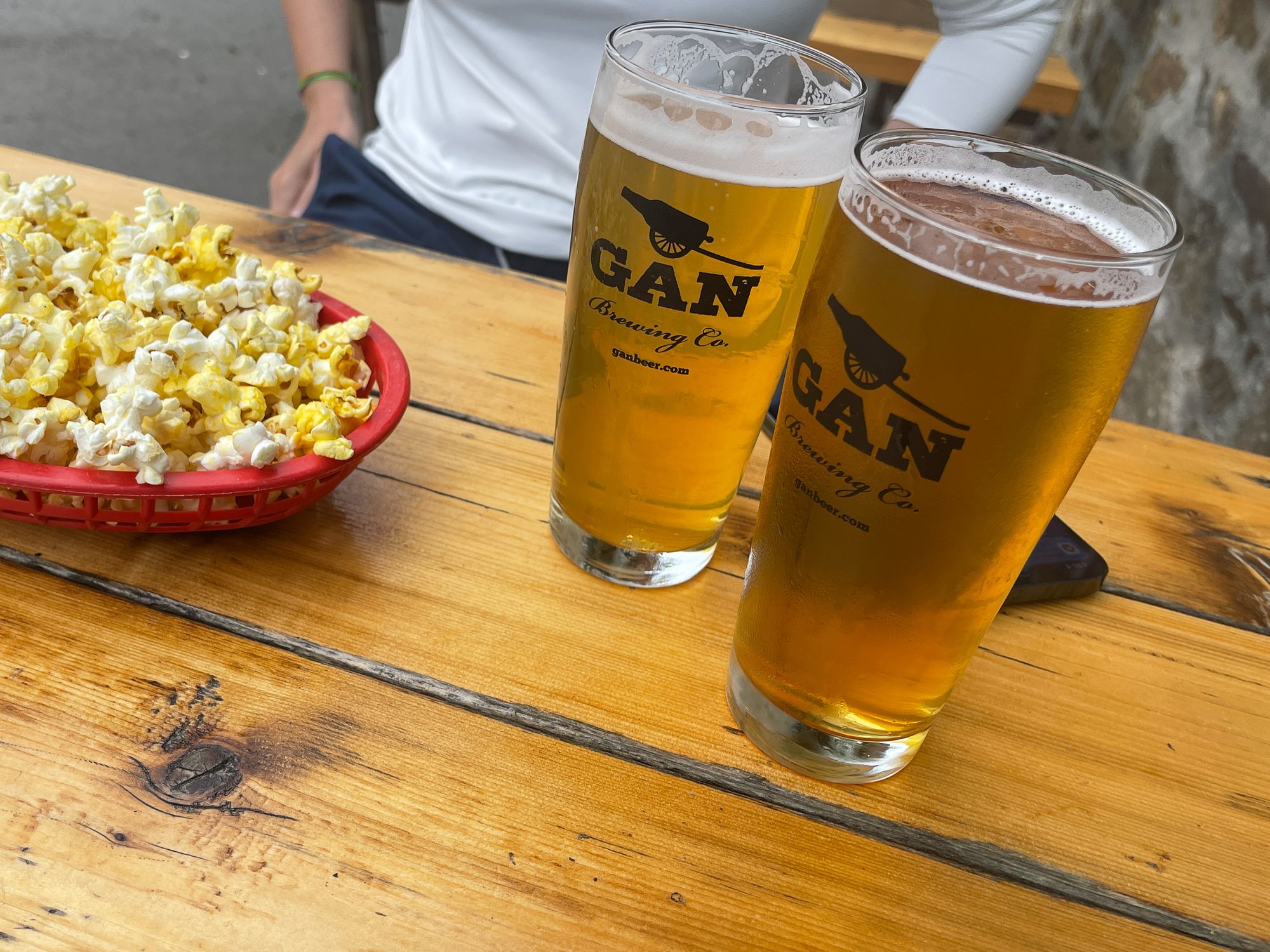 We walk up the street to explore the town. Along the way, we see a schnitzel restaurant that looks like a good place for a hearty dinner. After walking a bit more, Val sees a woman struggling to move a huge sign into a store and offers to help. As the three of us wrangle the sign, we chat about our trip and get a recommendation for the schnitzel restaurant and some gelato places afterward. "People seem so friendly here," I say to Val as we walk to the Maple Leaf Restaurant for schnitzel.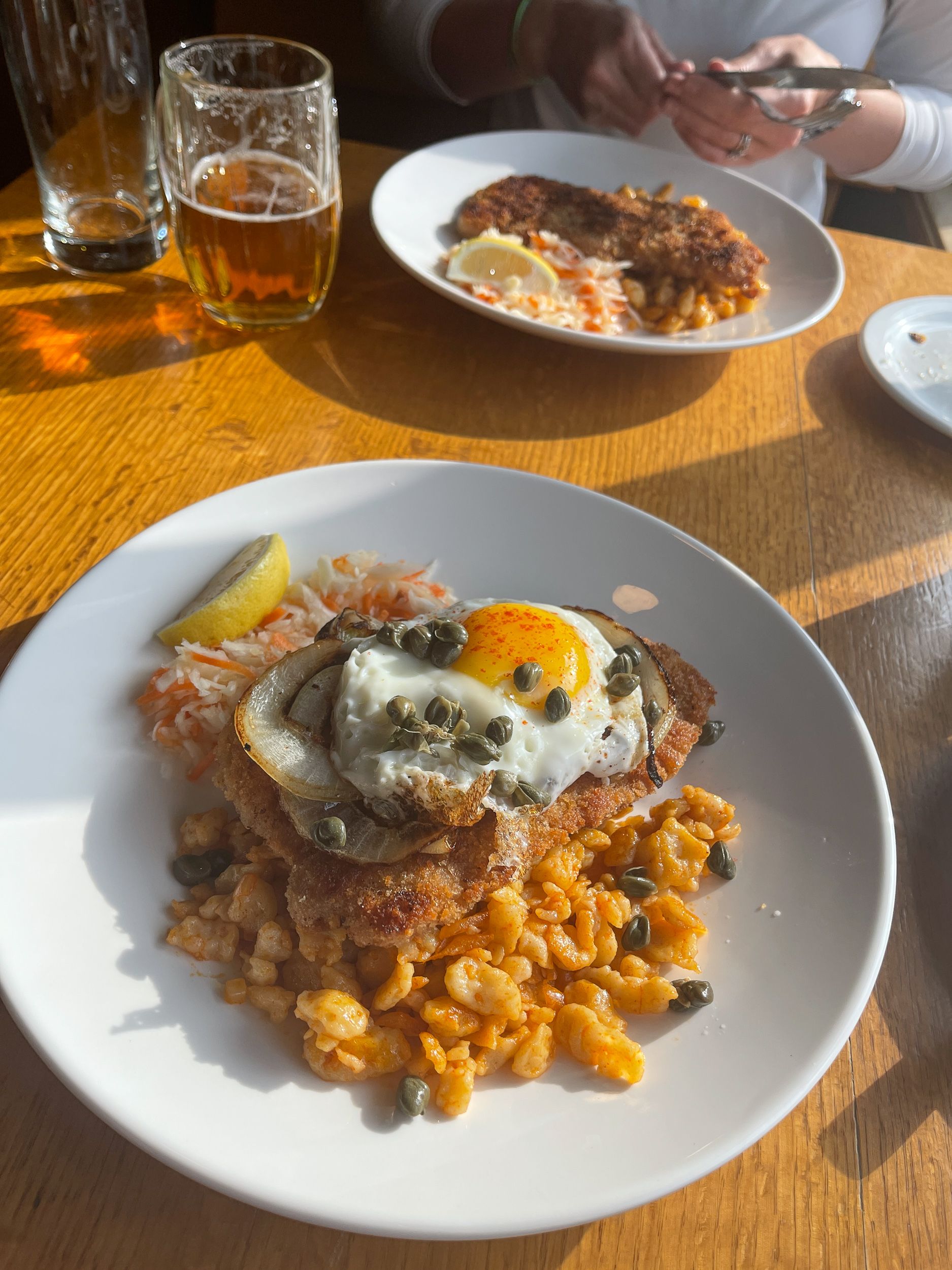 Most things aren't that different. There are still boundless McDonald's, strip malls, and Fords and Chevys. But it's been enjoyable trying to spot the differences. It's refreshing to be somewhere new and a bit different. I think that curiosity and discovery are key ingredients of adventure. Those differences help to keep us present in our surroundings and what's going on. I'm curious what else we'll find as we continue exploring Canada.
See you out there,
-Adam
P.S. According to Wikipedia, a bunkie is "a small cabin with a bunk or bed(s), a free-standing bedroom or sleeping area separate from the main house or cottage, which may or may not have other facilities (a fully outfitted outbuilding with a kitchen or bathroom would be a guest house and not a bunkie)".