Going With The Flow
We use our intuition to find adventure as we travel the Cape Breton Highlands.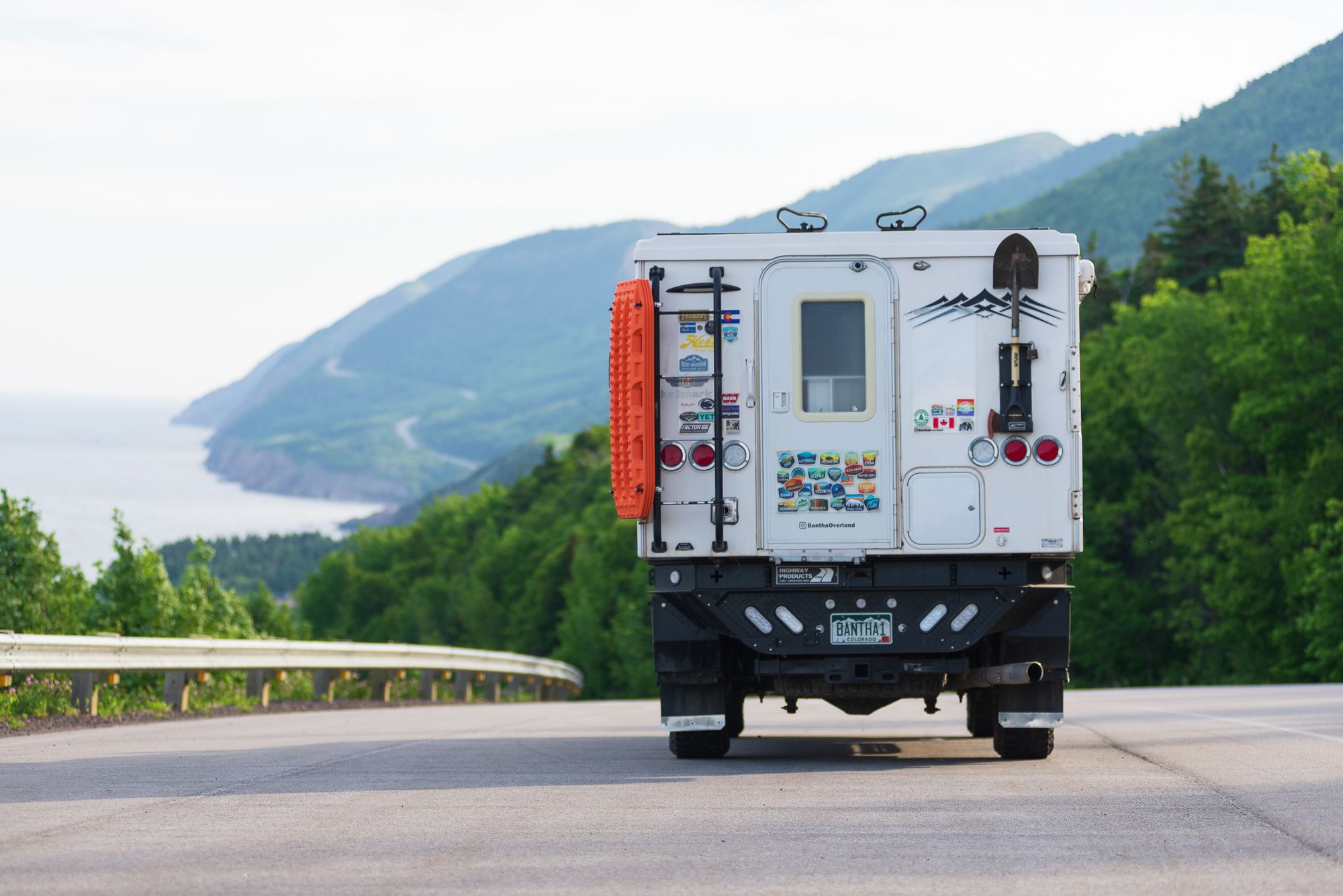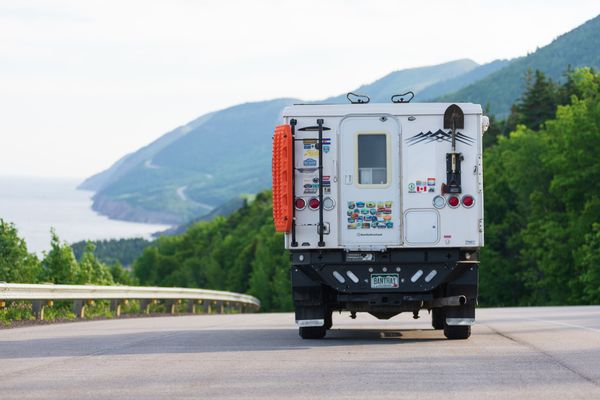 "They're open!" I exclaim, quickly braking and turning into the parking lot of the Freshmart in Mabou, Nova Scotia. I might not have normally stopped at such a small grocery store but it's the only grocery store that's been open all day and we need to resupply. It's Canada Day and most folks are off enjoying the national holiday. The Freshmart is a small store but has everything we need and more. We stock up on bread, meat, chips, salsa, beer, this, and that. I even find a roll of masking tape I've been hunting for a while. The store is busy, with everyone stocking up for the holiday. I share my appreciation with the cashier for being open. "The truck was coming today so I thought why not open up the store too," she said. I'm glad we stopped. It turned out to be just what we needed. Figuring out when to stop and when to keep going can be tricky while overlanding. There are seemingly endless roads to explore, trails to hike, and restaurants to try.  
We've been driving along The Cabot Trail, a 298km auto route through Cape Breton Highlands National Park and many small towns nearby. We don't have a specific plan for the next few days. We're making it up as we go, going with the flow. But we also probably won't be back here for a long time, if ever. That's just the reality of overland travel and a trip that's already covered 6500km. We sometimes do a bit of research before traveling to an area, but it's still hard to know a place just from reading about it. And so we figure it out along the way, using our intuition to notice what's interesting and stopping to check out a place to decide if we want to spend some time exploring it.
We're a bit farther down the road and see signs for the Glenora Distillery ahead. We decide to stop and check it out. It's the only single malt whisky distillery in North America. And there's a restaurant. And it's lunchtime. And it's a holiday so we decide to celebrate. We take the tour and taste the 10 year. It's pretty good. We eat a generous portion of poutine described as "18-hr red wine and whisky braised beef, our house cut, twice cooked Russet Burbank fries, local Skye Glen Creamery cheese curds topped with dark stout gravy garden cut chives and horseradish aioli". It's generous and delicious. And it's also listed as an entree which is amazing. There's also live fiddle music which is lovely. The Celtic Music Centre was closed when we passed it earlier in the day so we're glad to have found some Celtic music anyway.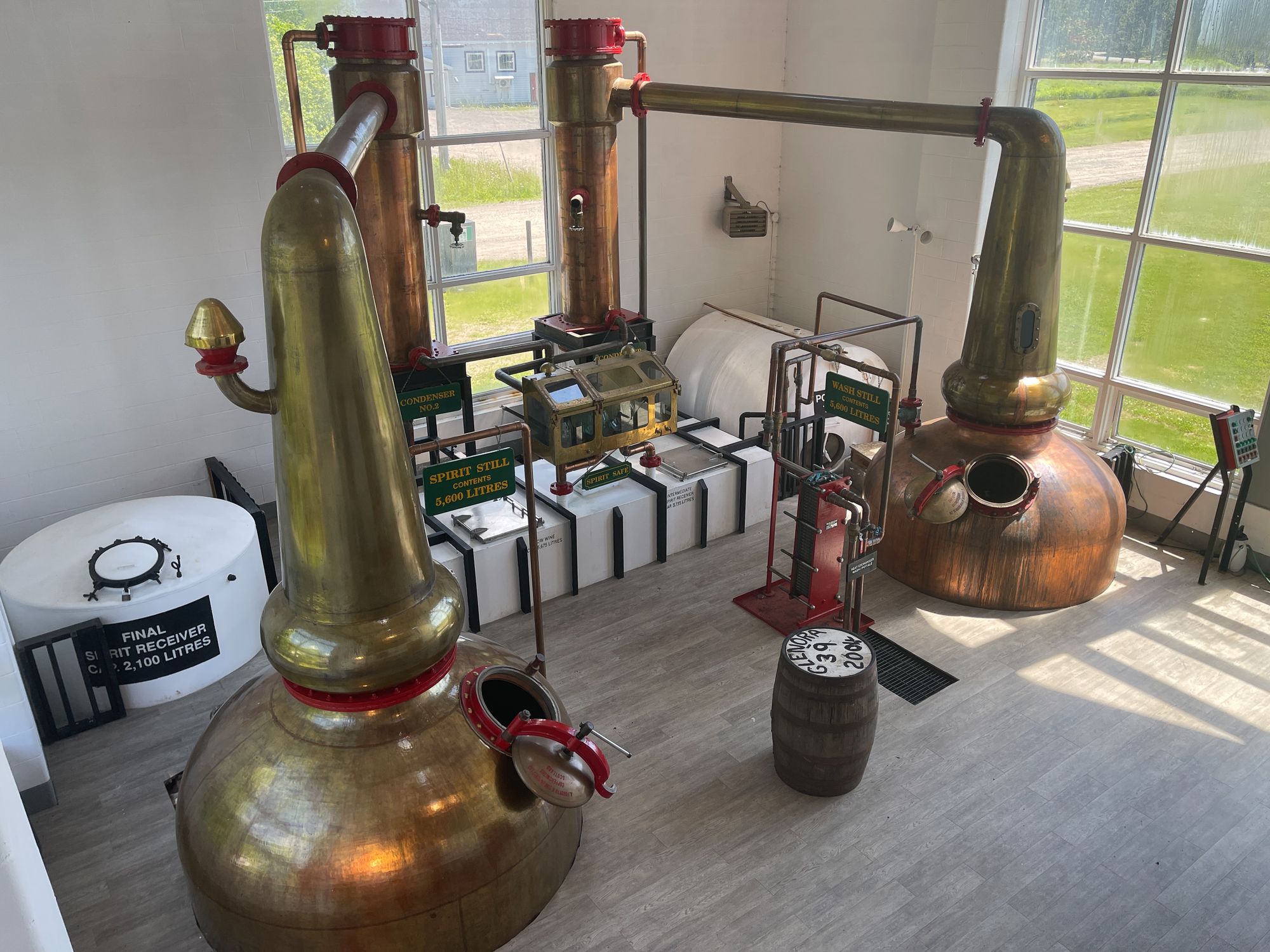 We continue on, turning down what looks like a good backroad along the coast but it turns out to be mostly trees and driveways to private property. Later we realize we missed another backroad that would probably have been all coastal views and beaches. We keep going trusting there will be other interesting roads ahead. Indeed, the next day we are surrounded by sweeping views of the highlands and ocean driving north of Chéticamp. We stop here and there enjoying the views, taking photos, and glassing the ocean for whales. We're going with the flow.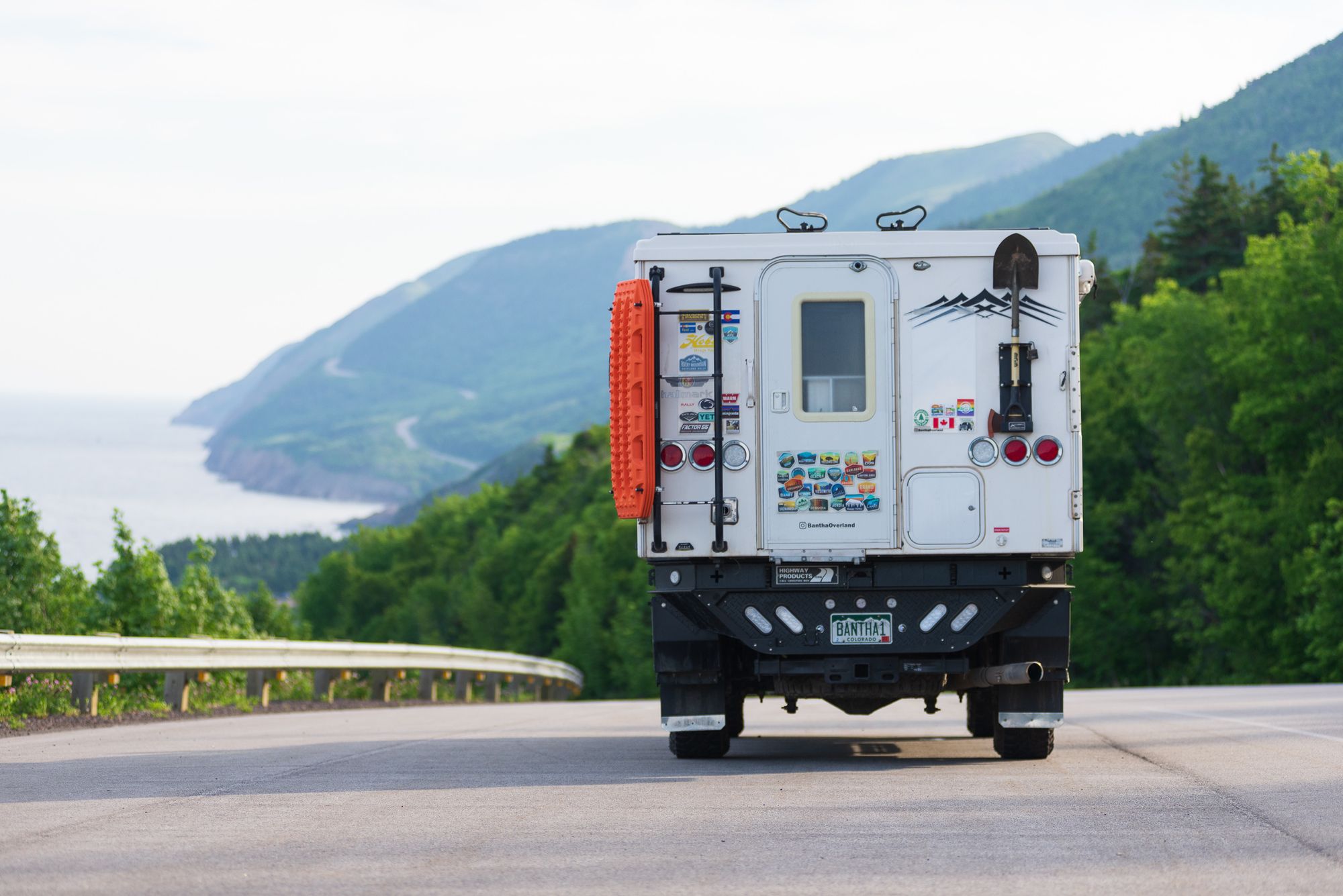 We decide to stop and hike the Skyline Trail which traverses the ridge of the Cape Breton Highlands before opening into stunning views of the coast. We noted it as a ready option as part of our research and planning. -And it's a lovley day for a hike. As we approach the coast, we descend a series of steps and boardwalks perched precariously on a bluff with steep drop-offs to the ocean. Along the way, a fellow hiker excitedly asks "did you see the bear!?" We see a few other people looking towards a nearby bluff and soon we see the bear too. It's a black bear slowly making its way among the trees, rocks, and scrub, likely looking for forage. "I didn't expect to see a bear by the ocean," I say to Val. But I appreciate the surprise and watch the bear for a while until it disappears into the scrub.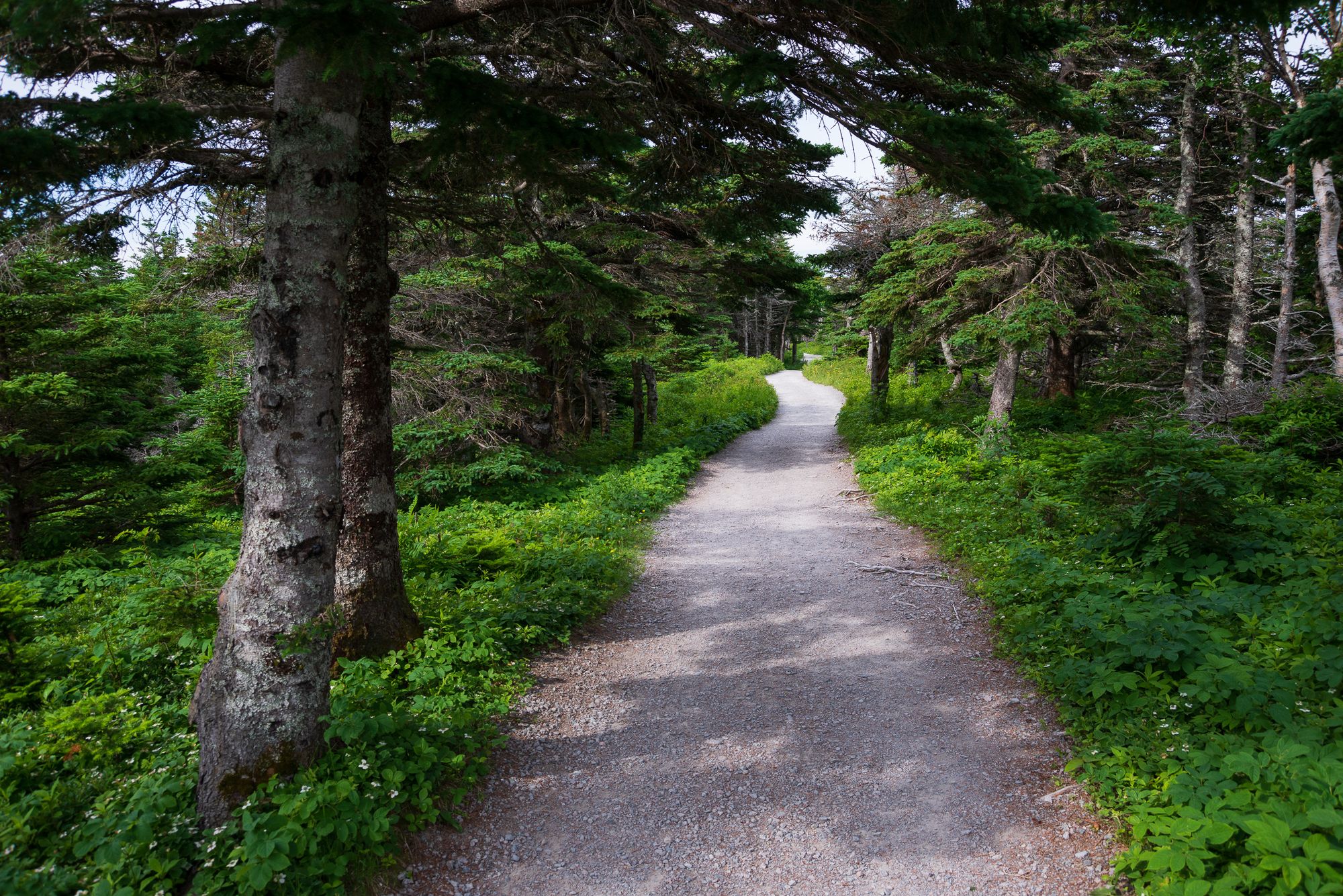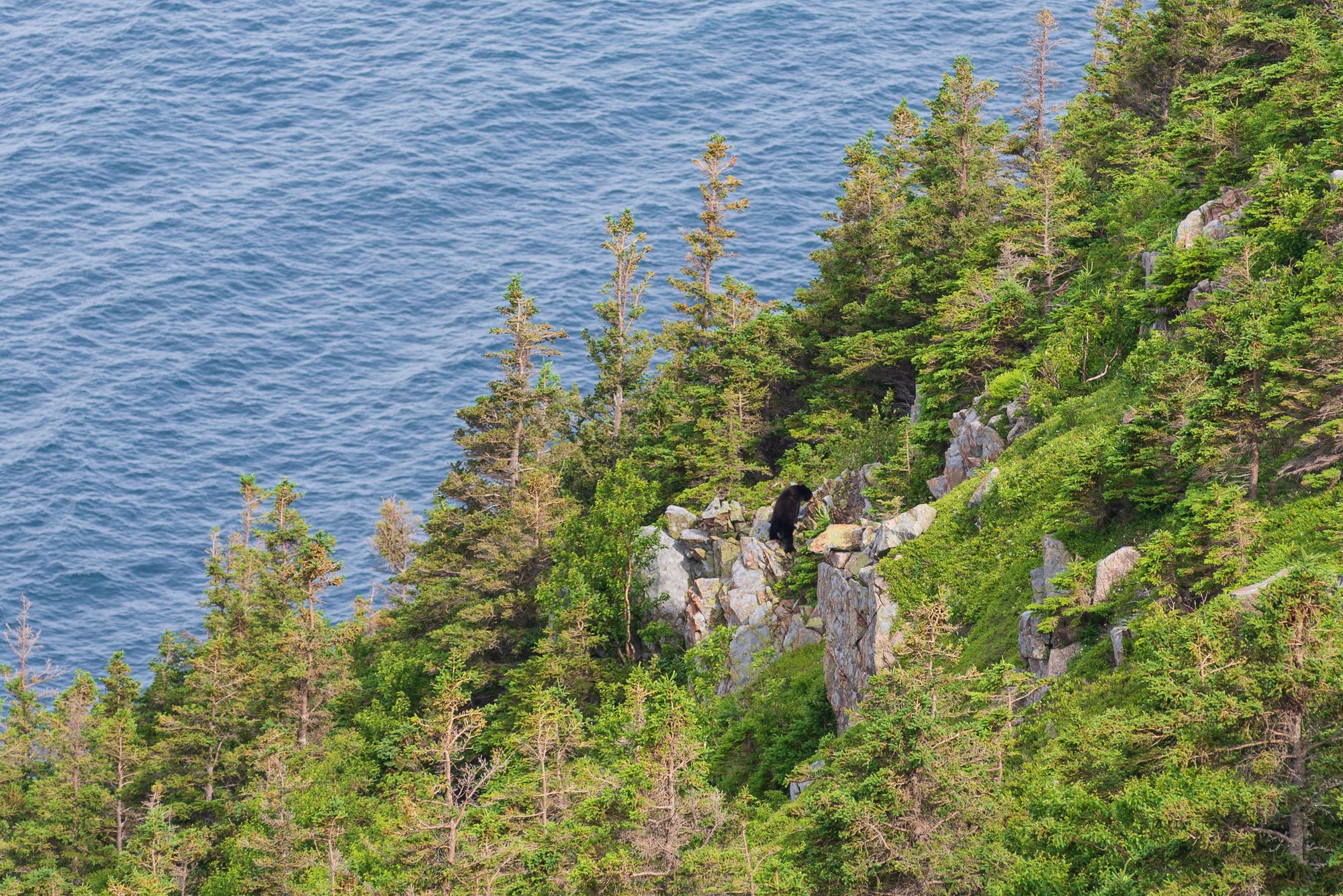 We consider having lunch at the trailhead but decide to try to find somewhere further ahead perhaps with a different view. We pass a few overlooks and trailheads wondering if they're the best place to stop for lunch. We keep going past a few. After gaining more evaluation, we decide to stop at an overlook with views of the highlands and coast. I still wonder if there's a better place ahead. But my intuition says "yes, this one" and we're hungry. It's time for lunch so we stop. Part of going with the flow is not fighting against it. We make sandwiches and chat with a couple who just got back from Newfoundland. "Watch out for the potholes over there. They're not kidding when there's a sign about potholes," they advise us.
We continue on, passing many side roads and a few small towns. I wonder what's down these roads. But there's a road ahead that we've already decided to try based on looking at our maps during lunch. Sometimes there are things you just can't see from the road. It's helpful to have a map and some additional information. We pass a restaurant with a sign saying "Come In. We're Open." We pass another restaurant that says "Come In. We're Awesome." It makes me smile and I want to stop but we already had lunch and are in search of a beach.
We drive down a side road towards Meat Cove. The road becomes rough and then somewhat nonexistent. There are serious potholes and sometimes half of the road just disappears into a jumble of dirt and rocks. But it's not a busy road so we use both sides as needed, flowing with its curvy undulating contours. As we approach the coast, we're rewarded with stunning views of Wreck Cove and North Point rising in the distance. We drive to the end of the road which decends steeply to Meat Cove Beach. We walk along the small beach of polished stone. Waves lap at the steep shoreline while pot floats bob nearby. We sit on the beach in the cool breeze but are surprisingly warm. The rocks are hot, having soaked up the sun of the day. We sit for a while.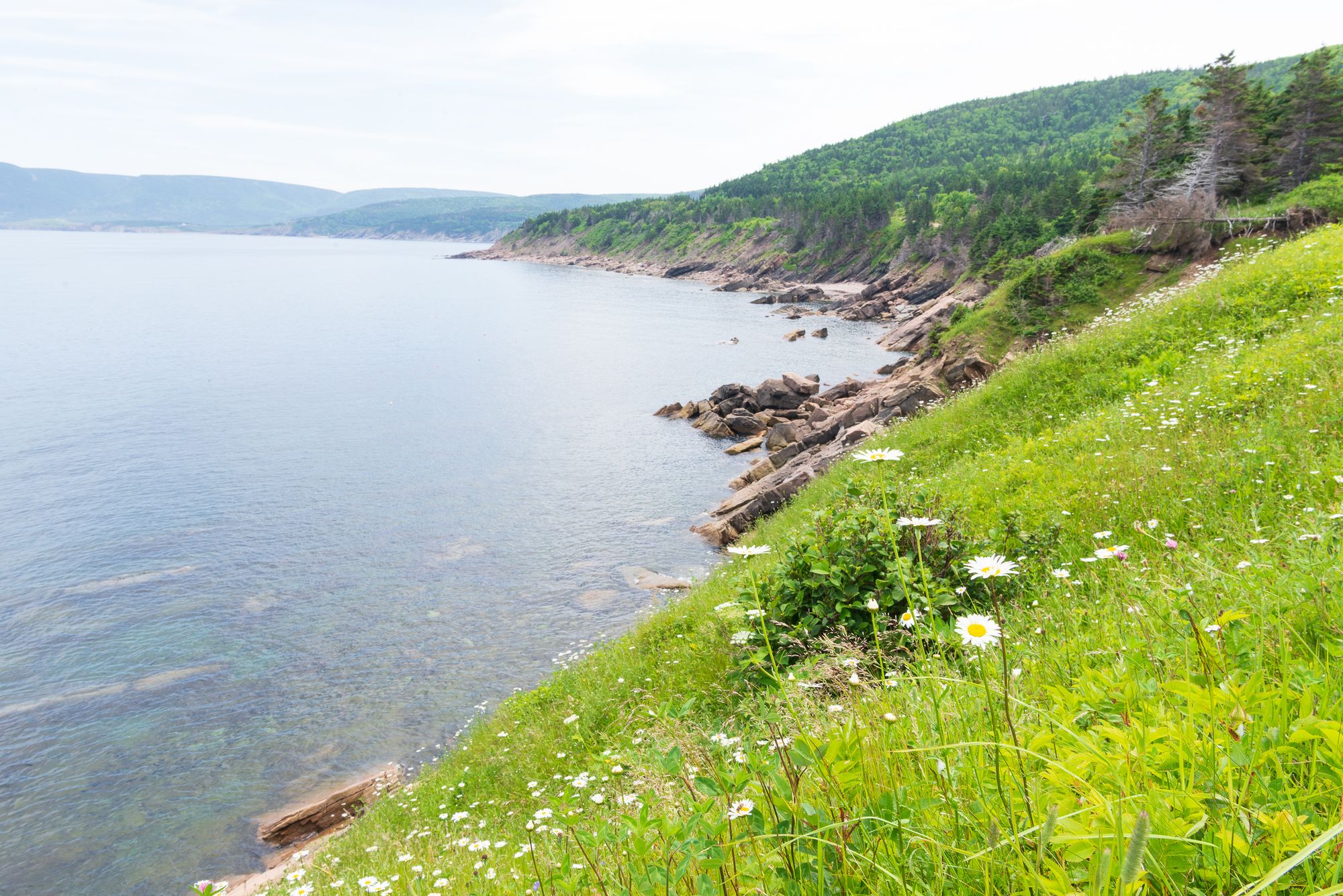 It's getting late so we decide to find camp. We've seen signs for the Hideaway Campground along our drive today. The campground has an oyster bar which sounds fantastic. They have some remaining sites when we arrive. We pick a site overlooking North Point and set up camp. We walk to the oyster bar (also the camp office) and chat with the owner as she shucks two dozen oysters for us. We take the oysters back to camp to enjoy with crisp beers. This is camping.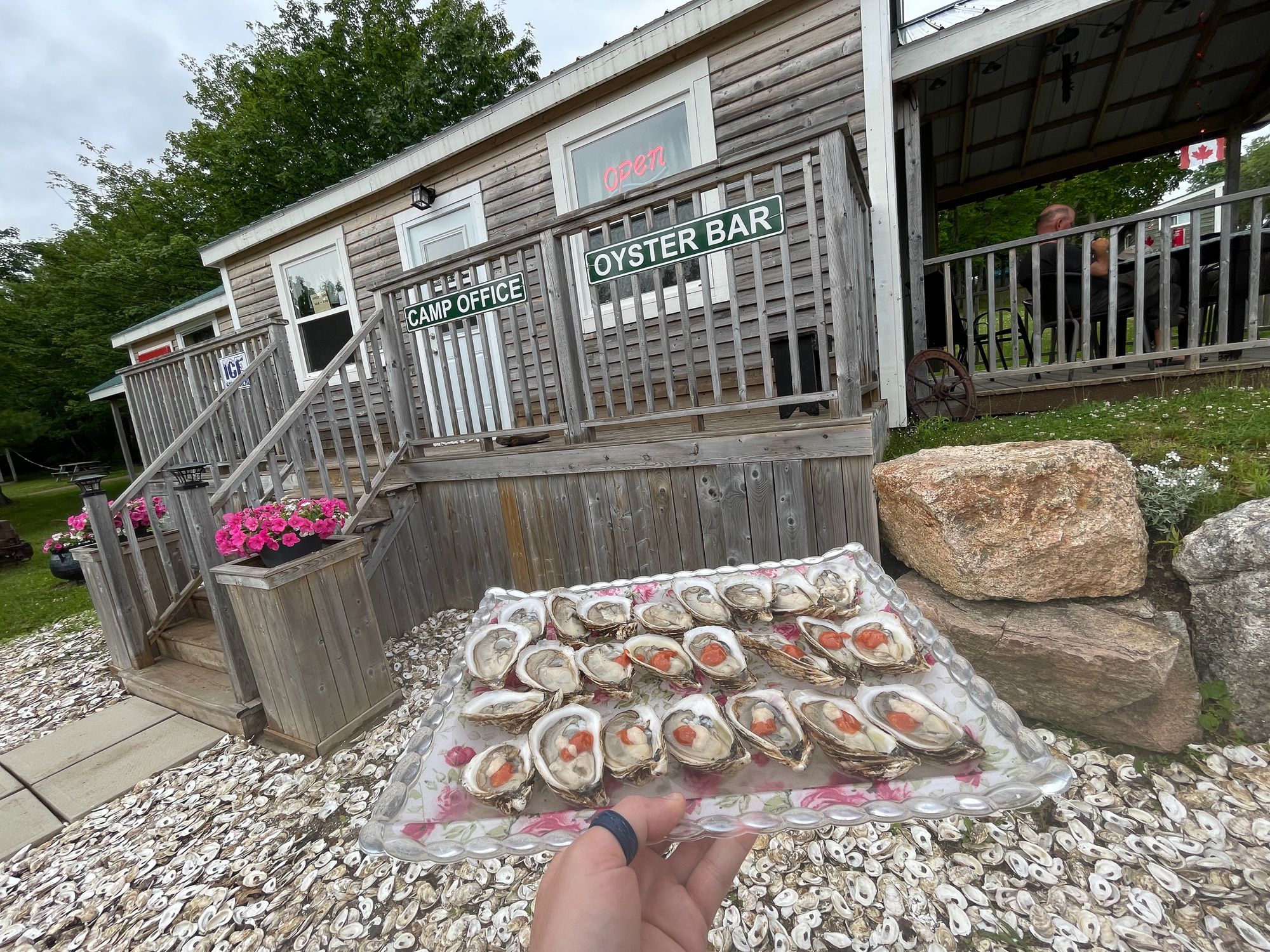 The next morning is sunny and calm. We ask at the office if there's a boat launch at the nearby lake. Turns out the campground has a launch just down the road. We inflate our SUPs and paddle along the waters until the wind starts to pick up. We've learned how to paddle in the strong wind but that doesn't necessarily make it fun. It's time to continue on, flowing along the road.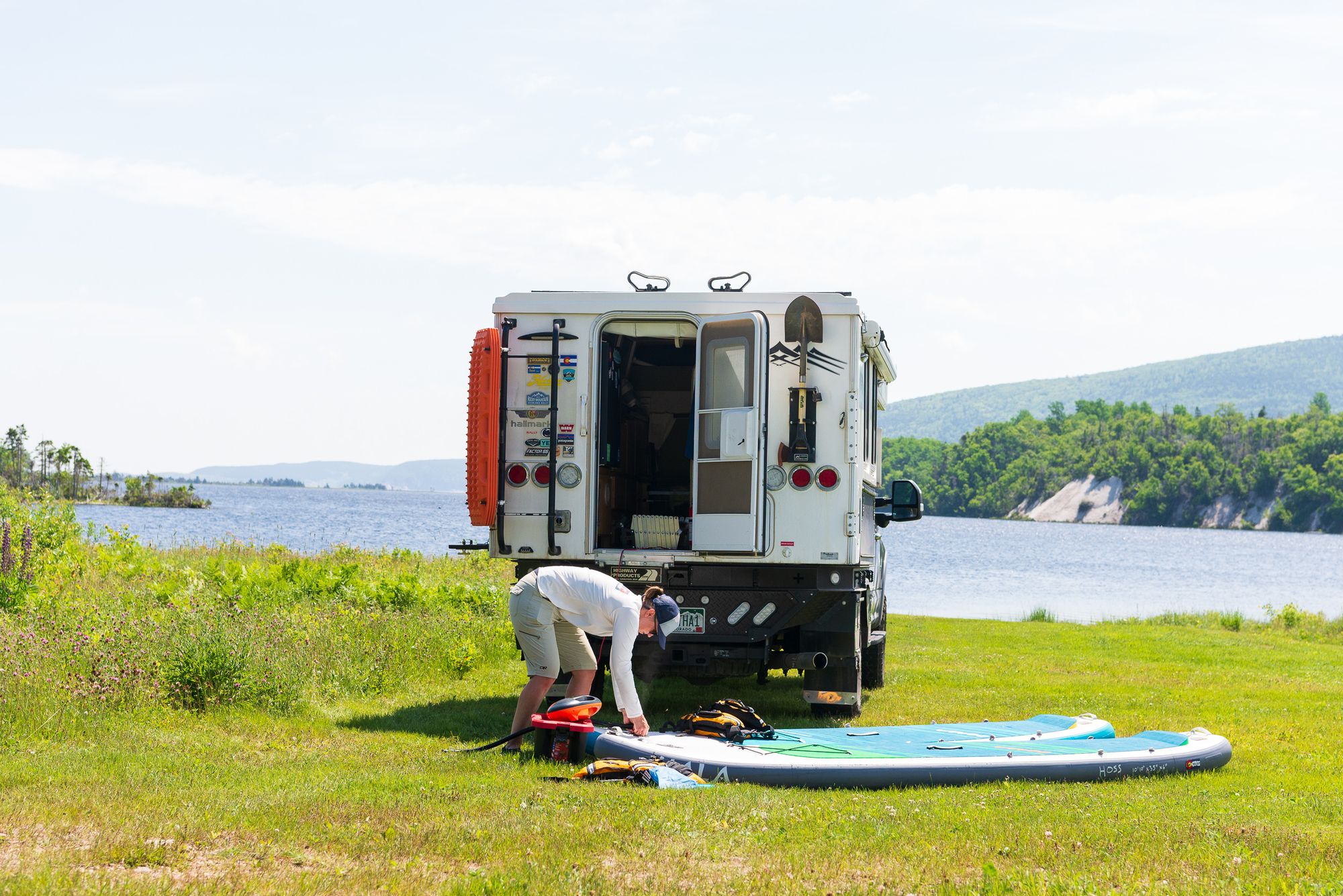 I appreciate the journey we took and the adventures we found along the way. I'm sure there are other adventures we would have enjoyed, but there's also enjoyment in the adventure of seeking adventure. An enjoyment in going with thr flow. And so we continue down the road, with a bit of planning and a lot of unknown to explore along the way.
See you out there,
-Adam